I woke up this morning to Mother Nature's ultimate April Fool's joke... SNOW! AGAIN!! But even with that I can find something beautiful to photograph (besides SNOW).
Gordon and I pulled into the driveway after dinner at Chuck-a-Rama and I saw my little 3-foot Christmas tree covered in tiny icicles! All I need is some way to illuminate them and I would have the perfect little Christmas tree! And although you can't detect it so much in this close-up, it is taken in my favorite evening light.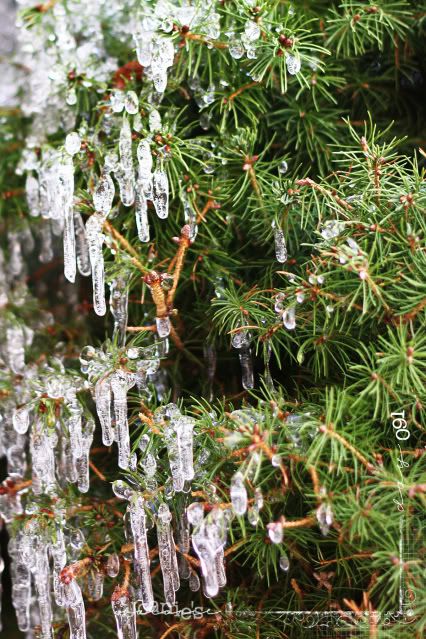 I have another happy thing to share. I've just completed the 1st quarter of my Project 365. This has been such a wonderful creative outlet for me. I took my laptop with me to visit DeLoris (she's back in rehab again with healing from hip-replacement surgery). Showing my creations to my friend, the painter, I realized how much photographers and painters have in common... it's all about light.
So thank you for following me on my year long journey of creativity and learning.
Hugs to all...