My dad use to have a saying... Company is like fish; after 3 days they stink! Whereas this is not always true I have found that I would rather have a visit end with all of us saying, "This visit was too short!" as opposed to "Oh, schmack, I wish I'd left yesterday!!" My visits this trip falls into the previous category. It just wasn't long enough.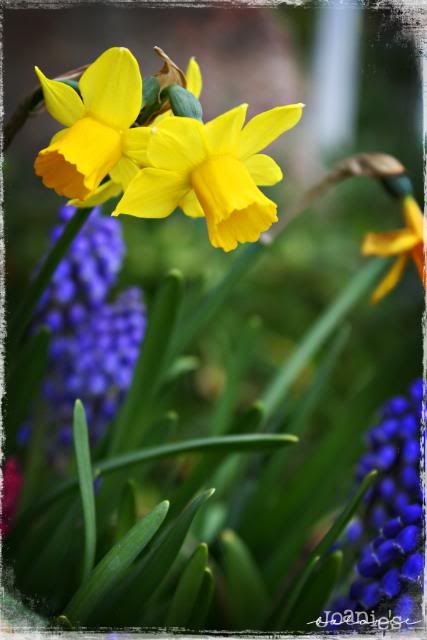 [THIS PIC HAS NOTHING TO DO WITH THIS POST EXCEPT IT IS A POT OF TINY BULBS BY BEK'S FRONT DOOR. THE DAFFODILS ARE NO LARGER THAN MY FINGERNAILS!]
I had a lovely week with the Flynn family and on Friday they all got a big treat! Uncle Stuey flew into Fresno to surprise them when they all got home from school. Those boys just idolize their *St'rt*.
And speaking of dead fish... Curt and Bek treated Stuart and I to an excellent sushi dinner on Friday night (the boys decided they'd pass on that one!) We sat right at the bar and watched Wan prepare all of our sushi rolls and sushi. I've decided that eel is a new favorite. Wan is a master at the art of sushi.
Saturday we drove back to Palmdale where Stuart dropped me off at Auntie P's then hot-footed it down to Brea to visit a friend. He stayed there to hear her speak in church on Sunday.
I went to church with P in the Palmdale 4th ward (sniff, no more Palmdale 2nd ward!). I got to see old friends, some of whom I haven't seen for years since they were split into 4th ward years before we moved from Palmdale. P told me that Glenn Tong was now on the High Counsel so when I saw him I told him I'd love to hear him speak someday. My wish is his command! By coincidence he was speaking in the Littlerock 1st Ward which meets right after 4th ward. I ditched out of 4th ward's Relief Society and sneaked into the back of the chapel. Imagine my surprise to find more old friends!
We ended up sitting in the chapel for nearly another hour after sacrament meeting was over visiting! The happiest news is that both Ann Keelan and Pauline realized they were quilters and now we have a new quilting friendship. Happy times.
So today, Monday, finds us winging (fly little Beatrix, fly) our way home with another perk... I have Stuart to share the driving. (FYI- the trip took 8.5 hours! It usually takes me 9.5-10.)