Stuey's a little princess!
(Bek used to give Stuart this answer! bwahahahaha!)
I'll tell you who the king is! S-T-U-A-R-T! He is one of the hardest working guys I know. Stuart has been my co-partner in
crime
DYI work for years! But about the time he turned 16 there was a subtle shift from
ME
being the boss and Stuart being the helper, to Stuart taking the lead and me delegating more and more of the actual work. Bless his sweet-hard-working-stump-diggin'-heart!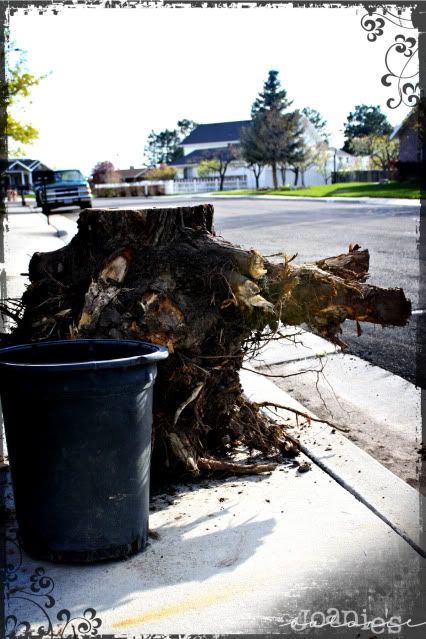 Ms STUMPY TRYIN'TA HITCH A RIDE TO THE GREEN-WASTE SITE!
When I told Stuart about my plan to burn the stumps out he wouldn't hear of it,
"You'll ruin your lawn, Mom!"
So a week ago Friday he started and for the next week, come rain or shine, cold or warm Stuart worked like a
house
garden-elf!
That
boy
MAN
DUG
...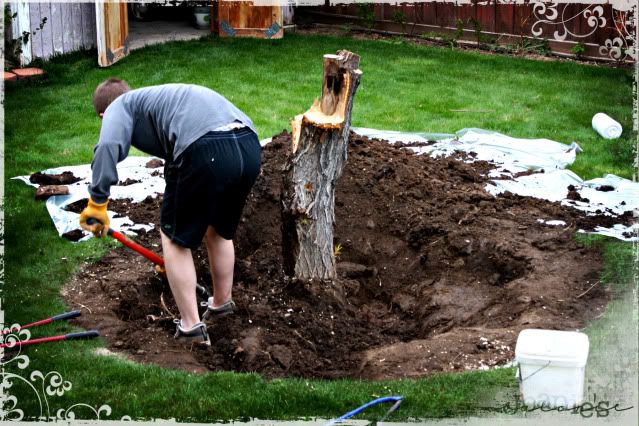 BACK YARD WILLOW STUMP
Used his impressive man-strength to
SWING
...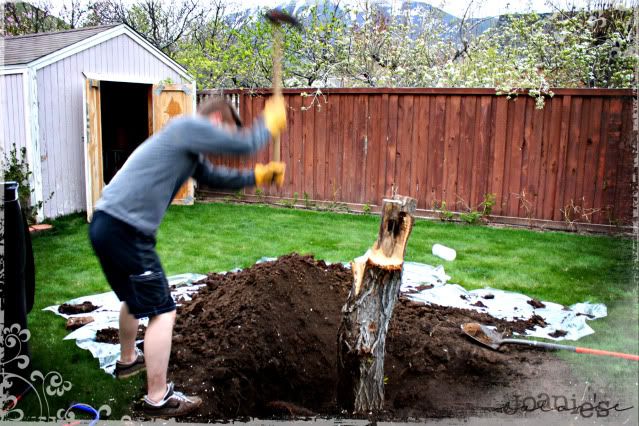 CHOP
... look at the chips fly! ka-WHAM!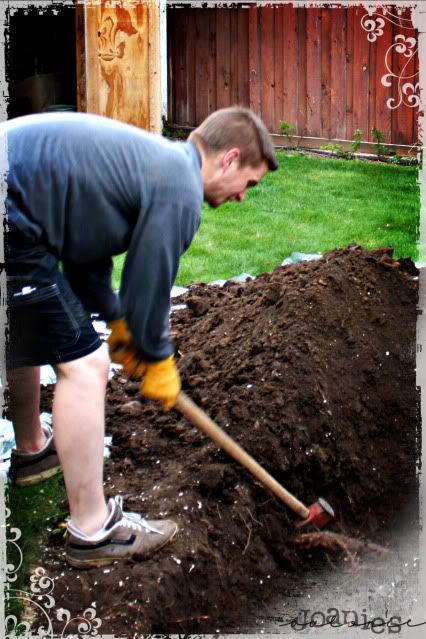 LEVERAGE
...
SAW
...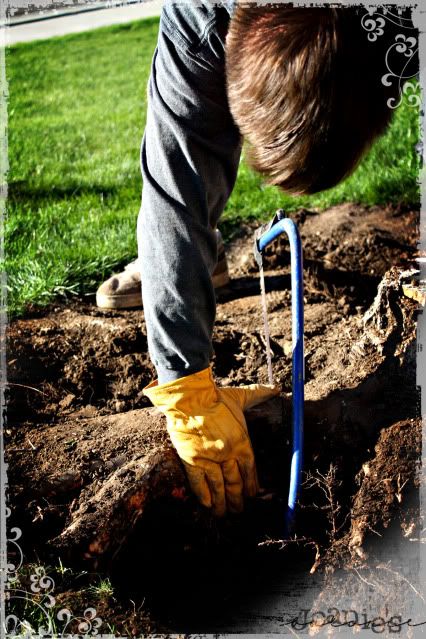 FRONT YARD WILLOW- WILL YOU LOOK AT THE SIZE OF THOSE ROOTS?
And REPEAT FOR DAYS! Actually he got the backyard willow, which was comparatively quite small, out in one evening.
But the front yard willow, well, she'd had such a happy life she wasn't planning on being uprooted easily! He worked on that bad girl for a couple of nights! On Thursday evening Uncle Wayne and several neighbors came over to help him get her out. I was at Women's Conference, hence no photos of the gaping hole that must have been left in the front yard! It took all of them to leverage that bad-girl out of the hole and roll it onto the sidewalk! (Where it now waits patiently for a ride to the green-waste dump!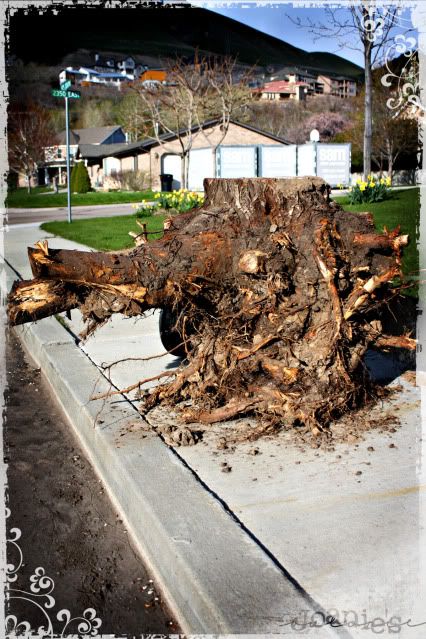 AGAIN I SAY- LOOK AT THE ROOTS ON THIS BAD GIRL... IT'S ALMOST 3 FEET OF ROOTS
Stuart lovingly and carefully planted both new trees. We decided to go with a flowering pear for a couple of reasons: there are several in the neighborhood that survive our severe weather quite well and they were $40 each at Costco!
BACK YARD FLOWERING PEAR
FRONT YARD FLOWERING PEAR
I can't even begin to express how thankful I am for my Stuart. We've planted trees together since he was small, not to mention all of the other DYI projects!
What's this mama going to do when he takes off for med school this summer... I just don't know!