Last weekend on our fun explore to southern Utah we decided to come home via Bryce Canyon. I'd never been there before and have always wanted to see it. I WAS NOT DISAPPOINTED!

This is a composite panorama made from seven photos using this cool
panorama feature
in PSE7.
Our first happy thing was when we drove up to the park entry shack. I told Gordon I thought he was eligible for the Golden Pass. As it turns out it is really called the
America the Beautiful Senior pass
. But the bottom line is this: $10 purchases a lifetime pass to all National Parks for seniors!
OhMyHeck
! I can hardly wait until I'm old enough to get my very own!
Our first stop was at Sunrise Point. A short walk took us to the *scenic overlook*. Wow!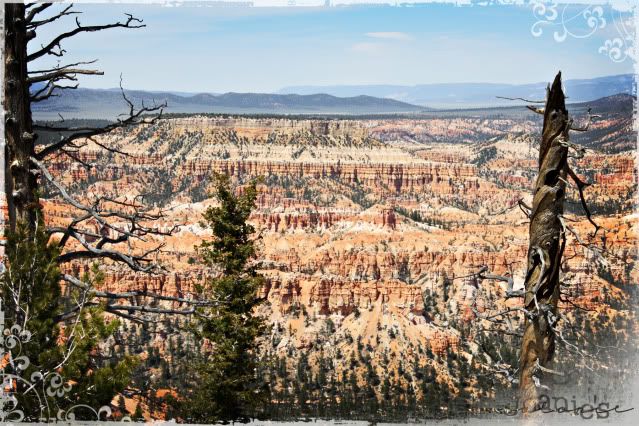 On the outermost point was this very weathered tree.
We ate lunch at the Bryce Canyon Lodge and contemplated a horseback ride (maybe next time). Then we trekked back to the car and drove over to Bryce Point. This one took my breath away.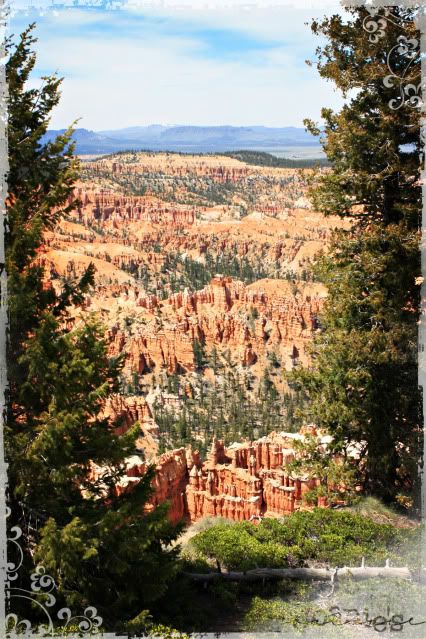 It was apparent that I was not the only one effected that way. There was an unusual reverent feeling from all of the viewers. There was no loud talking... just a group of awestruck people.
The grottos appear all in a row in the same layer of pale sandstone. Following that layer northward (right), the alcoves become windows through a narrow, jutting ridge. The Wall of Windows may have begun as grottos, though the rock behind them has long since weathered away.
Returning [to this scenic point] in different weather, at other times of the day, or in low-angled sunlight the grottos and windows stand out in sharp relief; on an overcast day they virtually disappear.
Apparently we arrived at one of the primo-viewing times!
This is the largest of the arches/windows and, hands-down, my favorite. When Gordon pointed it out he described it by saying, "You see those four men?" As I looked at this photo today it made me think of the Nativity. Can't you just see the wisemen, the shepherds, sheep, donkey, cow, and, of course, the Holy Family. Is it just me?
Now this little fellow... I just love *chick-munks*! They were native to my the Indian Valley, where I grew up. Did you know that you can attract them by clicking your fingernails? True story! I've done it. But when one got up on my knee when I was 5-years-old I jumped up startled and scared him away! What does one
DO
when they've attracted this little rodent?
I found this phenomenon interesting. It looks like someone poured a large load of cement on the top of these
hoodoos
.
For the moment, harder caprock prevents the arch from collapsing. Lighter-colored caprock is visible all around this viewpoint, temporarily preserving the hoodoos.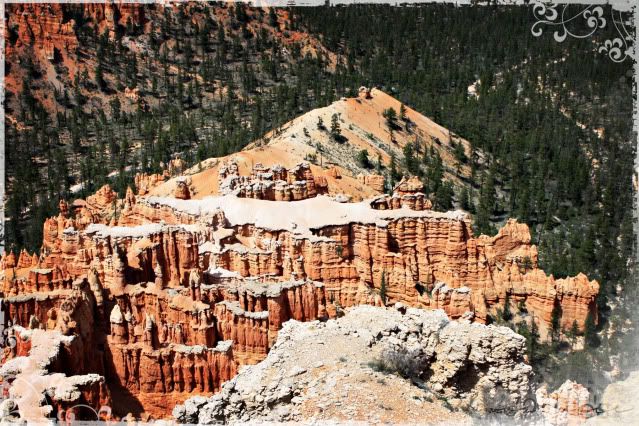 I'm just amazed at what time, wind, rain and snow can do!
OK... now you see that little trail that winds around down there amid all the hoodoos? It is called Peekaboo Loop and on my next trip to Bryce Canyon I will come prepared with hiking boots or perhaps riding boots (as in ride a horse) but I'm going down there. It just calls to me!