On Friday-last a group of us from the ward took an explore. The men had been talking it up for sometime. It was decided that we would go down to Southern Utah, near Escalante and see the historic
Hole-in-the-Rock
. We caravaned down in the morning taking the scenic route. What a beautiful drive! After checking into our motel rooms and lunch in Escalante we started the trek out to Hole-in-the-Rock. We rode with friends in their very nice 4-wheel drive truck. I wouldn't want to take a sedan, or Beatrix, down that wash-boarded dirt road!
There is a new Heritage Center on the outskirts of Escalante telling about the Hole-in-the-Rock trail and expedition.
"The outdoor plaza contains information and two large murals depicting the struggles of a band of Mormon settlers who spent six months in 1879 and 1880 chiseling, digging and blasting a crude, steep road down a cliff to the banks of the Colorado River. That road became know as Hole-in-the-Rock." (Salt Lake Tribune May 29, 2011)
There is a replica wagon there and I was amazed at how small it is! Can you imagine taking off for destinations unknown with all your earthly goods in this?
This is the *caravan* group. Others went separately and we saw them on the trail.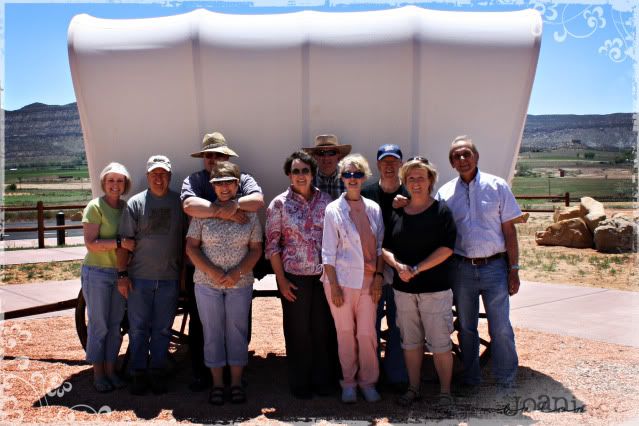 ANN and JOE LARSON, JOANIE and GORDON, DAVID and ELAINE HULLINGER, SHARI and BLAINE PALMER, SHERRY and MIKE LYMAN
There are two murals painted by Escalante artist Lynn Griffin depicting the descent.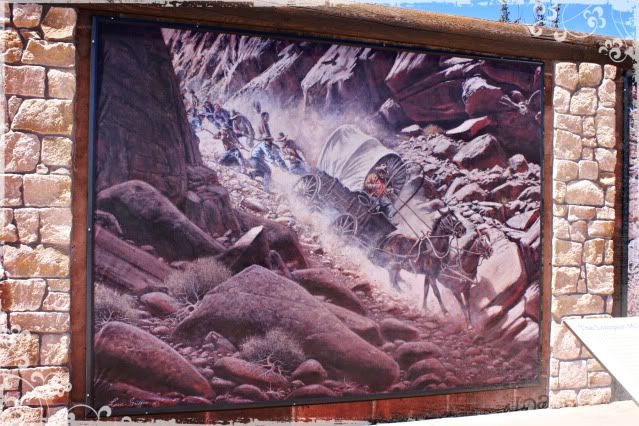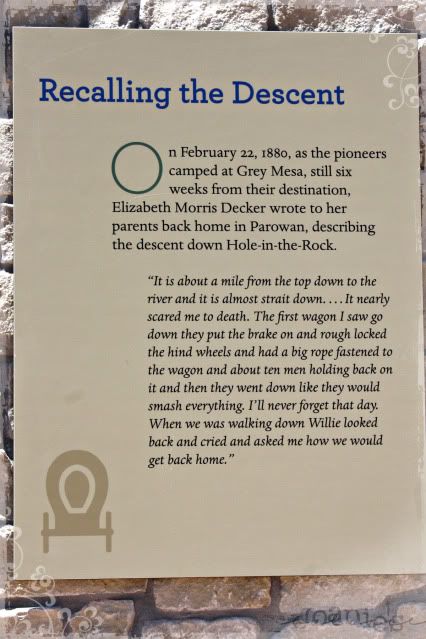 I've heard the story of Belle Smith and her family but I was sobered again at her pluck! She's my kind of gal.
"On January 26, 1880, Joseph Stanford Smith worked hard along the precipitous Hole-in-the-Rock trail,guiding wagons to the river. Toward day's end, he received word that all 40 wagons from the encampment at the top of the Hole were safely down. But Smith couldn't find his own wagon among those gathered at the river. He climbed back up to the top, where he found his wagon and family waiting, seemingly overlooked.

No other men remained on top to help brake the wagon's descent. Over Smith's objections, his wife, Belle, insisted that she and their horse, Nig, could restrain the wagon. She settled their three children- including a three-year-old and an infant- on a quilt and told them to stay put until their father returned.
Together the young couple began driving the loaded wagon down the Hole. In the first steep cut, Nig fell, dragging behind the wagon. Bell soon fell as well, and was dragged a hundred fee, deeply gashing her leg before the wagon came to a stop.

After treating Belle's wound, Smith climbed back to the top. He found the children waiting just where Belle had left them. "God stayed with us," said Ada, the eldest. The worst of the trail behind them, the family completed the rough descent together. They arrived at the river just as a group of men, noting their absence, were starting up to help them."
This gives you a scope to see just how narrow this *hole* is. I can't even imagine taking a horse and wagon down this!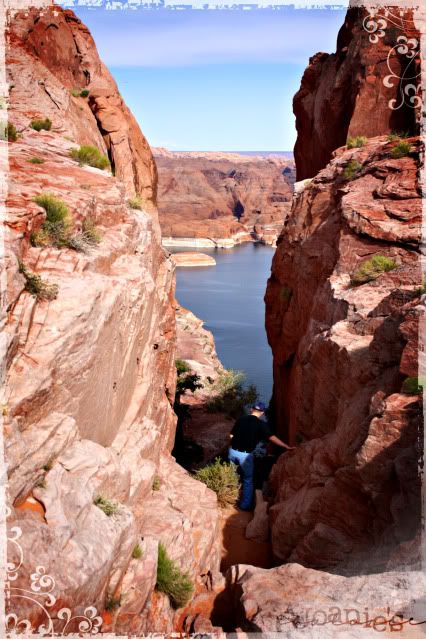 Much of the rubble or fill has eroded away in the last 130 years, but
even still
!
I wanted very badly to hike down to now-Lake Powell but I knew that-
I didn't want to impose my dawdling on the others
I saw the first 6' drop and decided that even if I could let myself safely down...
HOW WOULD I GET MY 5'3" FRAME BACK UP AGAIN?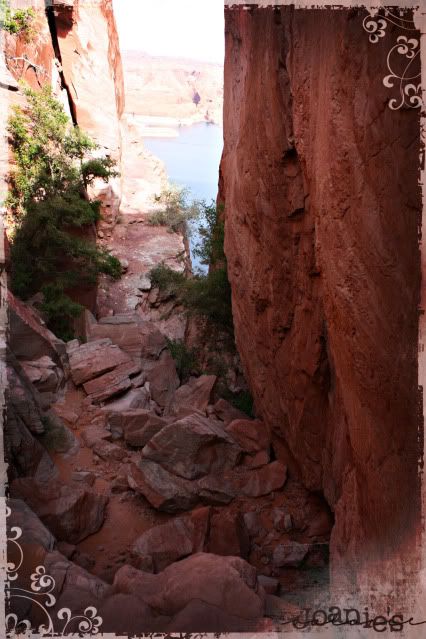 I settled instead on hiking up the slickrock* to the left of the hole and tried to get a view down that way into the abyss. Sadly, I was foiled again! I suppose it is a good thing I know my limitations and don't do anything stupid like
FALL INTO THE ABYSS!
(*Slickrock is the term the pioneers used for these large sandstone formations. They aren't actually slick.)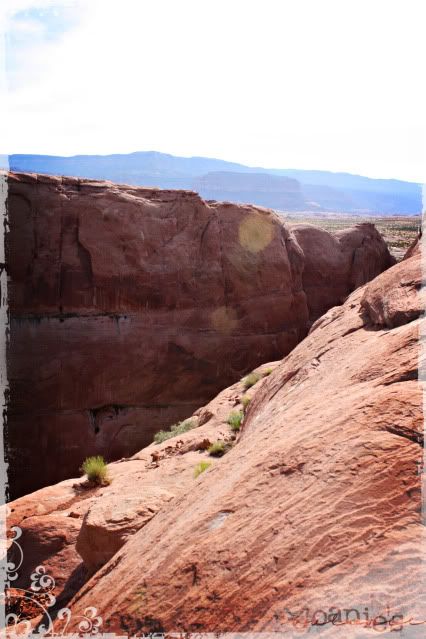 LOOKING BACK TOWARD THE SLIT THAT IS HOLE-IN-THE-ROCK FROM MY PERCH
I went as far as this fun little cave, emphasis on small, and had a lovely view to reward me for my labors.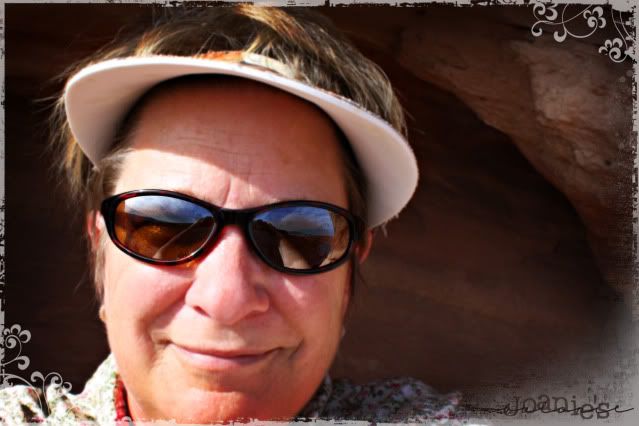 Lake Powell looking beautiful and serene.
I gained an interesting perspective from this visit to Hole-in-the-Rock.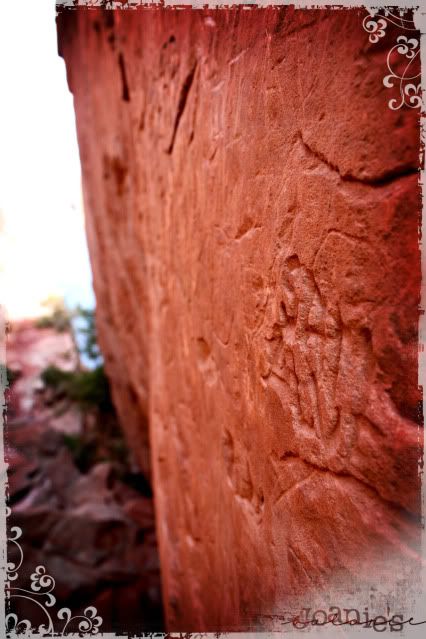 Why did these pioneers go? I quote from one of the signs at the Heritage Center-
"In the autumn of 1879, some 250 men, women and children undertook on of the most challenging and dramatic pioneering expeditions in American history. Their mission? To establish a settlement along the San Juan river in the southeast corner of Utah. Their plan? To blaze a direct transportation route through 200 miles of remote and breathtakingly rugged country that stretches southeast of Escalante. An expedition they expected to last six weeks became an epic six-month journey demanding scarcely imaginable endurance, determination, faith and grit.

Why did these people leave their homes, families and friends to embark on such a difficult and risk-filled journey? Nearly all were members of The Church of Jesus Christ of Latter Day Saints, which was working at the time to establish Mormon communities throughout Utah. To settle new areas, the church "called" members to join a colonizing mission. Members called to the San Juan (Hole-in-the-Rock) Mission were not obliged to accept, but most considered it an opportunity to serve their church."