I
blogged
two months ago about moving Miss Camille's out of her old classroom at Saratoga Springs, then last month I
talked about
the process! But somehow neither Camille or I got any *before*, *during*, or what we refer to as *
BOMB
* PHOTOS! (I think I should be drummed out of the blogging community for this infraction!)
So, first, do you want to know what a *
BOMB
* photo is? It is when you have to make a giant mess, taking everything out of the cupboards, so that you can get it put away in an organized manner. We were amazed at how many times a BOMB went off in Room 4!
Here is what it looks like today- all ready for the
ickle-firsties
to come in for reading tests. (Kevin visited Miss Camille's classroom today for the first time since he helped move in boxes. His comment- "It looks just like what you and your Mom would do. I'm not surprised!")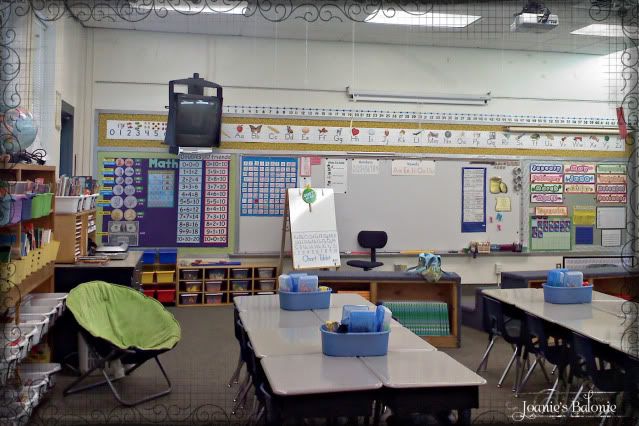 This is what it looked like on July 26 when Camille was stapling up her bulletin board background.
Horton has a new home above the circa 1950 student cubbies. Can you see all the October birthday eggs? We've found that this is a trend.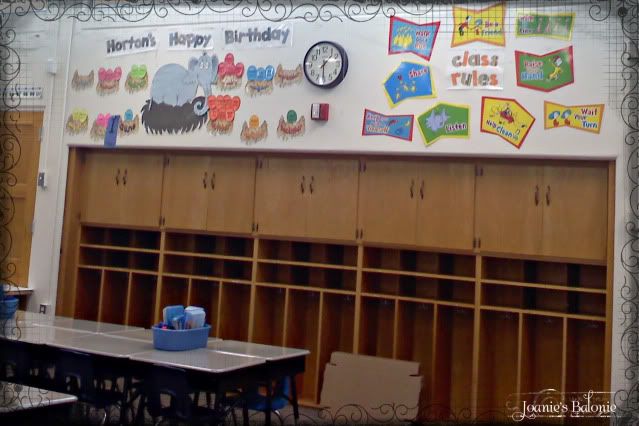 And, lastly, my Miss Camille! I sure love this girl! But now I have to go through Camille-withdrawals after spending lots of time with her in her room. =o(
OK... I lied! That wasn't the last! I took Miss Camille lunch today (simply an excuse to see my girl again today.) As I was leaving I overheard two moms talking, "I can't believe my youngest is in 2nd grade!" "I can't believe my youngest is in 4th grade!"
So I just had to tell them...
Ladies, my youngest is down the hall teaching first grade!
(Frankly, they didn't like being one-upped!)
bwahahahahaha