We told Spencer and Deborah we would take care of food at their reception. I suggested we serve chips and salsa (A friend in our ward did this and it was a wonderful success). When I talked to Auntie P about my idea she said, "I think we should make little taquitos! I'll call Camille and ask her if she wants to have a taquitos-making night!" (Camille was always her able-bodied-assistant when we made taquitos for P's annual Christmas party. So I ran the idea past Spencer and Deborah... they were thrilled!
We planned our trip down so we would arrive early enough to make taquitos. Stuart, Gordon and I went down in Gordon's Buick. Camille and Kevin went down in her little Mazda.
Silly side note...
we
left a full two hours before Camille and Kevin, but because of all of our potty stops, meal stops and picking up Spencer and El Pollo Loco for dinner (whew!) we all arrived at Auntie P's house about the same time!
After dinner we were all there in the kitchen... the girls cooking, the boys chatting, and it felt just like all those other fun gatherings at Auntie P's. I love that feel of tradition and connecting. Sonny came up for the day so I got to see her too! What a wonderful blessing.
I DO LOVE THESE FUN GIRLS!
We initiated Deborah in the arts of taquito making... showing her how to roll the meat in the softened shell and then secure it with a toothpick. Ah, we do love this girl. We are so glad she's in our family. (Can you guess which are the bride's hands? Hmm, not hard!)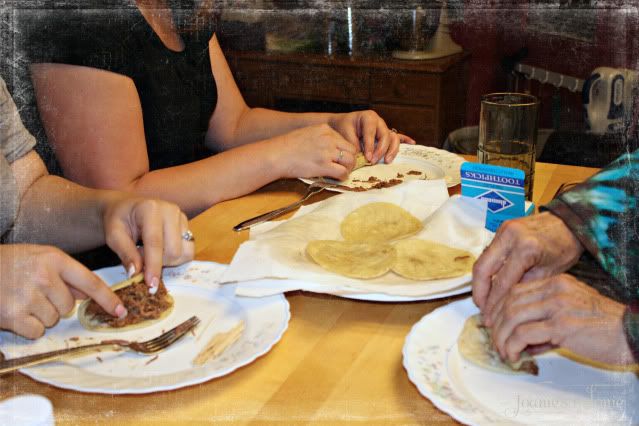 Poor Kevin's back was hurting (9 hours in a car will do that to you!), but he didn't want to miss out on all of the conversations so Auntie P brought out her special quilt (that someone very nice made for her) and he laid on the floor.
After the taquito fry was completed I caught some pix of everyone.
SPENCER, UNCLE STEVE, GORDON, DEBORAH
I'd just turned around from taking this pix when I caught Stuey in the act of eating the last of the pollo! Yummy!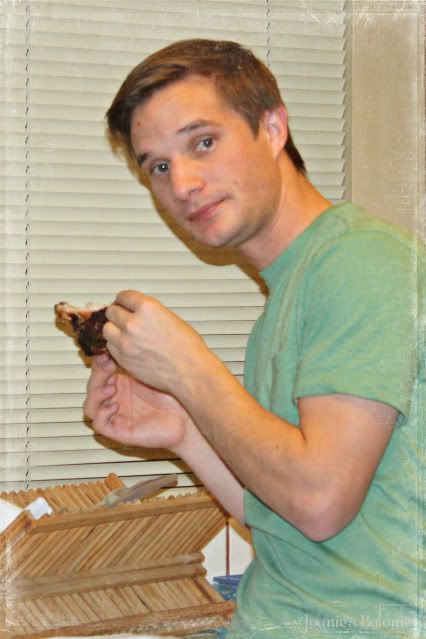 Before Sonny went back home that evening I gave her a haircut (have scissors will travel... that's my motto). I cut P's hair too, but since we both were busy no one got a photo.
What a wonderful, happy, fun-filled evening with our family!