Let me tell you a story...
Once a long, long time ago, a sweet quilter decided to make a double wedding ring quilt using the very happy colors of the 1930s. For some reason, she didn't complete that quilt top. Then another quilter came upon this unfinished top and added some of her favorite fabrics, trying to complete this top in the same colors and style (but, frankly, missed since she was probably doing this in the 1970s). Now *fast forward* (or as fast as this story gets) someone else bought this unfinished top, probably at an estate sale in the mid-west and brought/sold it to
Blue Door Antiques
in Livermore, CA where my sister, Sue, who frequents Blue Door, bought it. [circa 2003]
This is where I come into the story! Sue has always been very kind in sharing her finds with me. She asked me if I'd like to buy the top from her and I did! I
oohhed
and
ahhed
over it, petted it, studied it and then put it into one of my storage totes... and forgot about it. I moved it to Utah in 2005, since then it's had many other hiding places. Each time I find it I go through the same oohing, ahhing and petting process. Most recently I took it out and put it on the bookcase in my sewing room with good intentions of finishing this top! WHEW!
Guess what? I finally did! Yay for little Joanie... (but that was at least a month ago and I'm just NOW getting around to blogging about it!)
Since my motto with quilts is *go large or go home* I needed to do a little changing on the quilt top to make it fit my *almost king-sized bed*. Previously this top was square and I made it a rectangle. I felt almost guilty picking out those tiny hand stitches!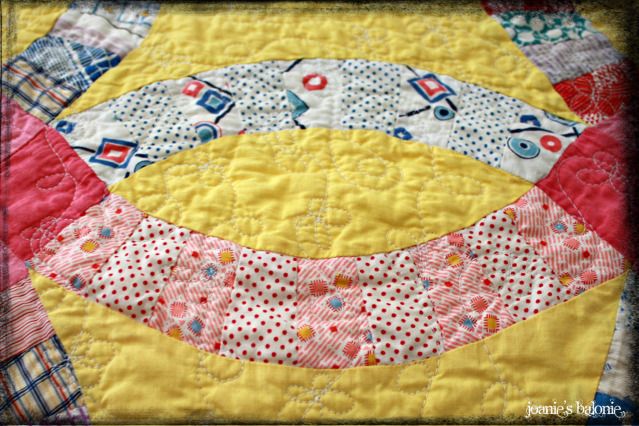 I always wonder about those previous quilters:
who were they?
how old were they?
where did the live?
what motivated their quilting?
would they be happy with what I've done with their quilt?
I am very pleased with our joint effort!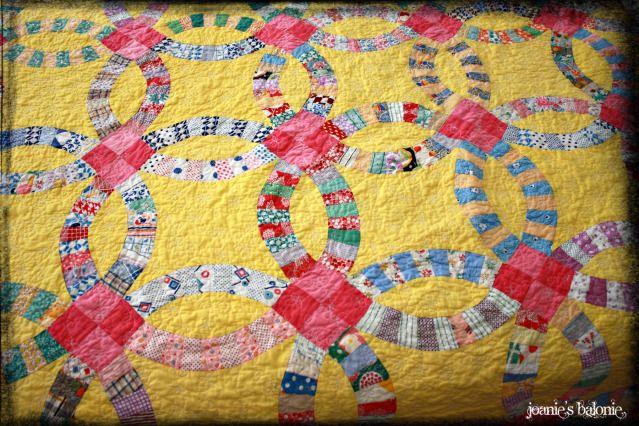 And
*our*
quilt now lives happily ever after on my *almost king-sized bed*.