Sing it with me!
♪♫•*¨*•.¸¸♥ ¸¸.•*¨*•♫♪
Teenaged-Mutant-Ninja-Tomatoes
♪♫•*¨*•.¸¸♥ ¸¸.•*¨*•♫♪
... that is what comes to my mind every time I go pick my grape tomatoes. Are you all familiar with the yummy, small, sweet grape tomato? I thought I was too, until this year! But this...
THIS
is what I found the first time I went out to pick... (and frankly these are smaller this time since the weather has cooled off a little).
Now I ask you... doesn't this look like a small Roma instead?
They are tasty, but not as tasty as the small ones. Do you see this heaped bowl?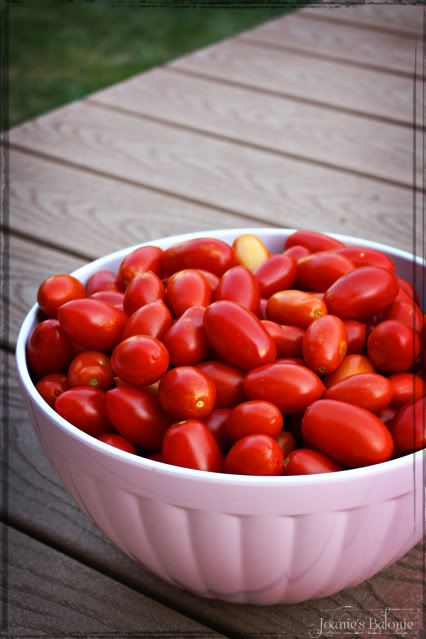 I've picked this amount, or more, several times this summer (let's all hear it for the
water walls
!). You know that means I've been on several *Drive-by Fruitings*. I even used them to paid-in-kind when I got Beatrix serviced last. (OK, so I paid the bill
and
gave Elisha some tomatoes... let's not get technical!)
I'd be interested to know if anyone else ended up with any mutant fruit or vegetables this summer.