Now that I've recuperated from my week at girls camp I have enough energy to blog about it! What a fun AND exhausting experience!
JUDY SUMSION, JOANIE, and our fearless leader, NOELLE SMITH
At our last planning meeting I found out that it was tradition that the cooks did a little song and dance before dinner each night to entertain the girls. Oh Boy! Thank goodness Judy's daughter, Katie, came along! Not only was she an extra set of hands (you can never have too many) but she took on the responsibility of planning our *show* each evening. The first night (photo above) we did a song from
Hairspray
- hence the ratted and sprayed hair.
The second night we were rocker-chicks... I love Colin's mullet wig!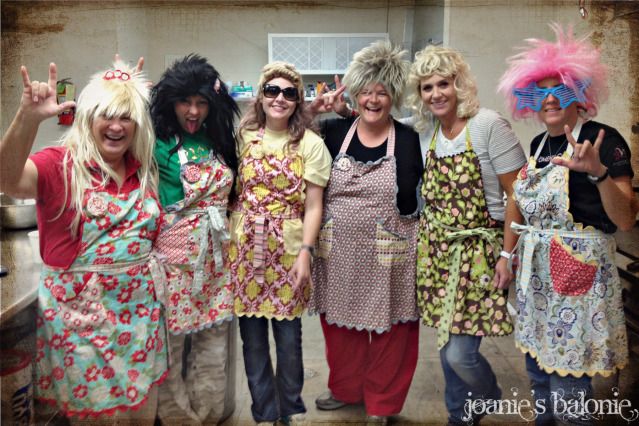 JOANIE, NOELLE, COLIN, JUDY, TAWNYA, CAROLYN
You notice that I am definitely NOT in the know with hand signs... I'm rockin' *I love you* but that works for me!
My personal favorite was a lunch time treat... Colin and Noelle as sumo dancers!
I had to share this video as well...
At the end of the day Tuesday, our aprons BADLY needed washing and some brainiac (I can't imagine who!) put them into the washer without tying the apron strings! My mom would call this a HARD-BOILED-KNOT! It took Noelle and me five minutes to untangle this mess!
We had a wonderful, big, industrial-sized kitchen to work in but we needed to bring everything we would need to chop, cook, and clean-up. So as I was packing up my laundry basket with favorite knives, bread board, dish clothes and towels it occurred to me that we would have helpers at each meal who might appreciate an apron. Since I have collected quite a few I threw them in... they got put to good use... by not only lots of sisters but some good-natured guys.
BRAD (sorry no last name. He's in the witness protection program...
Not really, I just don't remember his last name)
Brad started cooking french toast when it was still dark outside so we were ready for the 7:30 breakfast!
Thursday morning the Stake Presidency always cook breakfast. President Wilding is legendary where pancakes are concerned! Can you tell he was the first helper to arrive at the kitchen? He got my cow apron! He also stayed after breakfast, our last meal, and cleaned the entire grill, including the hood and filters plus mopping the floors. Thank you President Wilding... we were exhausted!
Then Judy says to me, "President
Monson
is outside!" WHAT? HERE AT
OUR
GIRLS CAMP? I rushed outside to see President Box... apparently I was more sleep deprived than I thought!
Bwahahahaha
When President Bird arrived he was a good sport and rocked this pink-girlie apron that Rebekah gave me for Mother's day!
I've considered that this may be my last hurrah to girls camp as a *full-time* resident. (I'm not 30 anymore!) I thoroughly enjoyed being with the other women in the kitchen: we cooked and chopped, laughed and cried (OK, so mostly I cried!) and I loved connecting with the girls. I love this program. I guess that's what happens when you've been involved for over 40 years.