I finished one of my *happily-waiting-projects* this week. I just love how they wait so patiently for me... we have a good relationship that way...
It is always helpful to me if there is something pivotal going on in my life so I can remember when I started a project. (You can read about other projects
HERE
- shopping for fabric to make Desi a diaper bag &
HERE
- Bek was pregnant with Brock)
This project is an easy one to remember because of the *project box* that it lived in for almost 3.5 years. I got this darling lunch box after Sandy and Matthew got sealed on 3.6.9- to eat (in a driving snowstorm) on the way home from the Manti temple! I loved this creative little fellow and just had to save it!
Just a few days later I flew out to CA to visit with Bek (my partner in textile-crime) and we just HAD to go to town and shop... several times! I started out with just a simple fat quarter pack of blues, browns and greens from Wal-Mart but by the time I flew home two week later (after a wonderful week of Grammie-duties) I had the makings for the wonderful happy quilt all cut out and with several rounds of the log cabin blocks completed. It needed a place to live (I
must
have project boxes, usually they are the Sterilite boxes) and this darling box just happened to be the lucky recipient!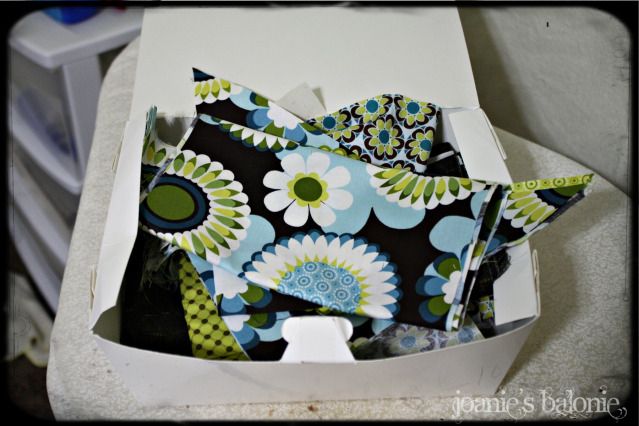 I did more piecing, but if you can tell there are a LOT of tiny pieces that make up each block. At some point, I cleaned up this project and put it away to wait on the shelf... I've returned to it several times in the intervening years but, as I mentioned, I just finished it this week.
Now here is one of the happy parts about being creative... there is
SO MUCH WONDERFUL CREATIVE JUICE
that flows when I first start a project! Oh! The grand plans... the mental images of my finished project!
Desi and I were talking about that yesterday! She was feeling a little down because, like me, she has a lot of half-finished projects...So I reminded her that
*they*
don't mind waiting!
Sometimes
Most times I have to be in a certain frame of mind to do a certain kind of project... this one, for instance, required the ability to find happiness in the slow, methodical, ickie-pickie process... Some days I just need to have more progress than that! But other days I find that this methodical process soothes me. See how that works?
I'm so grateful to be far enough down my
creative-life-path
to realize that unfinished projects are old friends waiting for a happy reunion... not some-
THING
waiting to whack me over the head "BECAUSE YOU HAVEN'T FINISHED ME!!!"
And here is another happy-serendipitous thing about this quilt... If I'd finished it way back in 2009 I wouldn't have had the Chenile-It to add as a visual stop between the blocks and my WONDERFUL floral border (and on the binding) AND I wouldn't have been able to quilt it on my fantastic Sweet 16!
See how that works?