Almost 11 years ago Rebekah and Curtis moved to
Yosemite Lakes Park
AKA YLP. Caden was just a baby who we put in
baby jail
his playpen so we could do all the fix-up, painting, etc that needed to be done on their little repo home. If Caden wasn't in
baby jail
he would eat anything that moved! Ick! YLP has a wonderful rural lifestyle that suits their family just fine.
Over the years they've done all sorts of improvements including adding an in-ground pool (watch out for all the ginormous granite rocks when digging!), a garage conversion, pulling up carpeting and replacing it with laminate or bamboo flooring, removing the popcorn ceilings and replacing it with pine planks. I love visiting here.
When the *little* boys; Caden, almost 12, and Brock, 9.5, got home they were *hot* (yes, it was all of 75°) and they wanted to go swimming. Bek told them that if they wanted to clean all the pine needle debris out of the pool they could swim. "
You want to swim... you do the work!
" I like that kind of mothering!
Tadhg is in high school now and gets home an hour and a half after his brothers. He's all about skateboards right now and wasn't interested in pool maintenance.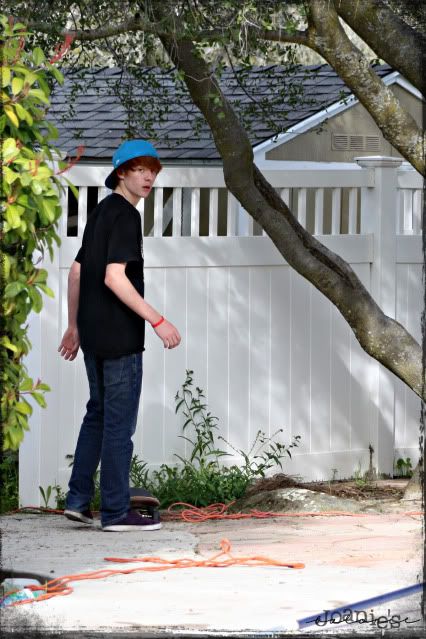 Since we were outside on this *
too hot
* day (notice she has on a sweater?) Bek pulled out her rake and started cleaning up the flowerbeds inside the pool area... can you say PINE NEEDLES?
This is Super-Girl the bestest cat around! She's only four years old; which is old for a hill-billy cat. Sadly, cats don't have a very long life span here. There are too many predators/dangers here. But they fulfill a very useful purpose... just what kitties do best: keeping the rodent/snake/bird population in check!
"Come here, Sup!" says Brock.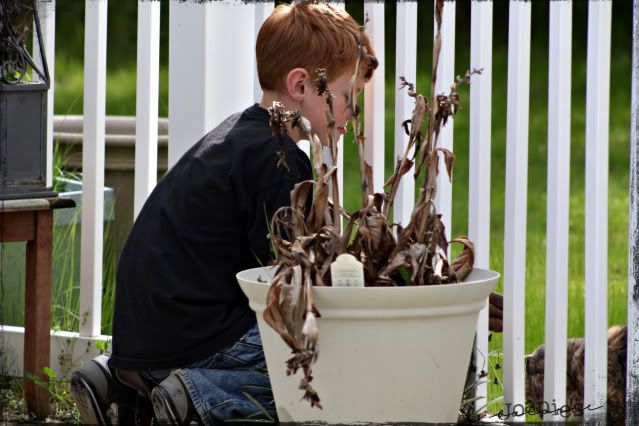 OK- so here is the saddest part about this happy post. I took my whole camera outside to take these pix... I didn't know which lens I would want to use. When did I remember when I'd left it out there? Yep, that would be this morning after it had started raining. Fortunately I was able to dry things off and they are still working properly!
BTW-- THIS IS MY 900th BLOG POST!