When I took the baby SD card out of my MPC-phone I discovered that I had some very fun photos from 11 days ago (the day before my surgery) that I'd completely forgotten about. What a happy find!
Camille's been teaching 1st grade out in Saratoga Springs for the last four years and whereas she loved the people she worked with (you know who you are) she was not wild about the commute, especially since the onset of the I-15 corridor construction! (It already cost her a tire.)
Each year Camille has put in for a transfer to other schools, within the district, which would be closer for her. This year was her lucky year! Her previous school was going through a significant downsize: from 8- 1st grade classes in '09-'10 to only 4 in '11-'12! (There were
only 7
last year!) It is a wonderful blessing that Camille was able to transfer to a school right in Orem, 2.1 miles from her house, right across the street from Desi's! Hooray!
ANY
-way, on June 13th Miss Camille and I trekked bravely out to her old school with Kevin's (
Camille's-kind-of-Kevin
) cargo van. Our quest was to remove 4 years worth of planning and working, playing and teaching from her old room there. There were so many fun memories for both of us. Camille has let me come help her prepare for each school year: putting up bulletin boards, original artwork (Horton the elephant in his tree, and other trees) and tons of fun visuals for those ickle-firsties!
Our main concern was could we fit the kiva into the van? LIKE A GLOVE! I just love the laws of physics: leverage, wheels, balance, a little muscle-power. We leveraged the kiva onto one of the rolly-carts, wheeled it out the very uncooperative double set of doors, tipped it into the back of the van and...
P-U-S-H-E-D!
Go little Camillie!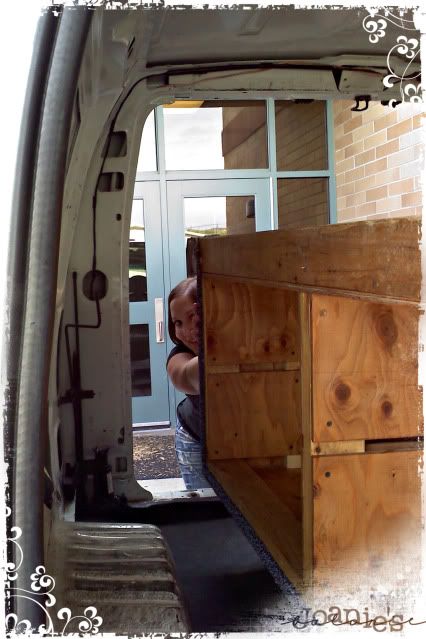 The second section of the kiva just needed to spoon on top of the first. But we didn't realize we had it backwards until we got outside. We flipped it around, again with the tip and push! Yay for girl power! We laughed and had a good time with all of our silliness.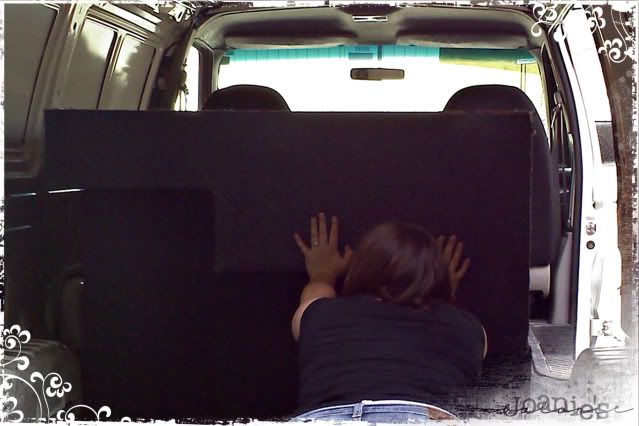 With impending thunderstorms threatening us I neglected to get a photo of the van fully loaded... right up to the roof! We stopped at Carl's Jr for a much-deserved milkshake on the way home.
I'm looking forward to another day of working in Miss Camille's new classroom when my hands are strong enough for the work.