Last fall we all had a girls-weekend at Holly's new house in Idaho. It was a wonderful time rekindling our long-time friendship. Traditionally these girls-weekend trips were all about *
what are we going to craft!
* (But that is a whole different post). And even though we didn't have any crafts in tow this time Holly did have a project for me. She wanted me to make her a table runner quilt. That sparked an idea in my little girl mind. I told her I would like to make her a house-warming quilt. So we went fabric shopping at her local drug-store-that-carries-fabric! (As opposed to the Ace Hardware-that-sells-fabric in Cedar City!) Poor Holly got her first taste of quilter's sticker shock when they rang up her total.
OK... so now fast forward- the top is completed AND I have my wonderful Handi-quilter Sweet 16! This is the first quilt since I got my HQ16 where I really got to color outside the lines. I knew I wanted to use a paisley quilting pattern. I ferreted the net for some ideas, printed out a couple and then started. When I tell you I color outside the lines I literally mean that... I don't do well when I have to stay right on the line when quilting. I find that I do the best by learning the pattern and then I do it all freehand aka free-motion quilting.
Holly was in love with this Alexander Henry cowboy print so that was my base. Because we were shopping without a pattern in mind we got some good companion prints. When I found this fun pattern in one of my quilting magazines and knew that this was *just the ticket* for Holly's cowboy quilt. So when it came time to start cutting I went *shopping* in my stash.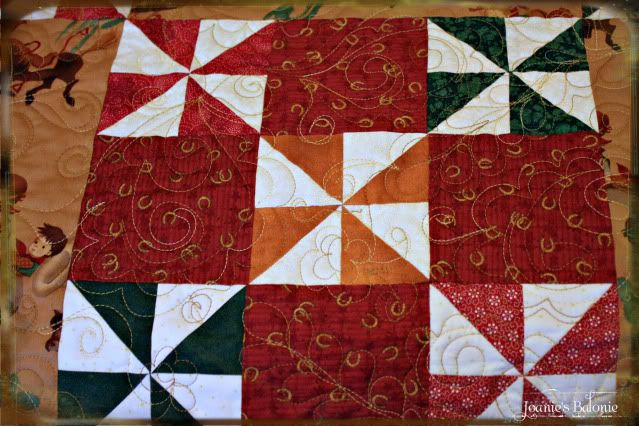 I had the quilting finished before my hand surgery but I still needed to bind the quilt. Since I knew I would be seeing Holly in Palmdale I got the binding on and made my delivery. Now I can hardly wait to see it on Holly's cowboy bed.