(Where to start the story?)
Beatrix is roomer than you'd think (I've camped in the back)
I have a tree that has been threatening to die for the last 3 years.
I've had a fake tree every year since 1990!
I've always wanted a live Christmas tree.
Hmmmm... maybe that last one is as good as any. The thought of buying a live tree for Christmas and then planting it afterwards has always appealed to me. And since I have a tree that is *mostly dead* (name that movie) I have a good reason to make this year be
the year
.
Friday was my day to run some errands which included a trip to Home Depot. A couple of weeks ago I'd seen a beautiful little Norfolk Pine that I thought would be wonderful in my yard... until I discovered that it wouldn't survive in my cold-winter climate. I headed outside and looked at the selection: some variety that would grow to 200 feet tall, hmm,
maybe not!
A Scotch pine, I never cared too much for them and since the recent wind storm that uprooted 1000+ pine trees, that was a definite NO. Then I spotted a Colorado spruce- Fat Albert-
Picea pungens
: hardiness -40F, mature size 10-15 feet, with the added feature of being deer resistant. But I've decided that this tree is not Albert... but Anita and she can be pleasingly-plump if she wants.
Now for the *how do I get Anita home?*... in Beatrix, of course! I pulled the front passenger seat all the way forward and then inclined the seat toward the dash to create a large space behind... just right for Anita to ride in the back seat (on the floor, of course).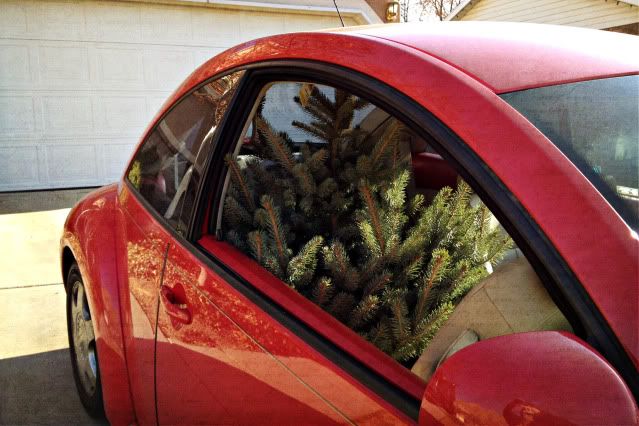 A very nice young man loaded it for me, somewhat skeptical that Anita would fit behind the passenger seat. I will tell you that I thoroughly amused two ladies who were parked by me as we drove away! When I got home I was able to lever her out using my foot to lift the pot up over the door ledge... but now, ugg... Anita is a bit prickly! (Well, I
never
!) I ended up putting my jacket around the tree to protect myself, balanced half of the pot on my snow shovel and while holding onto the edge of the pot dragged it into the garage, for safe keeping. I won't bore you with how Gordon and I got her inside- suffice it to say it involved a large blanket and an old bath towel.
It wasn't until I started decorating that I realized just how long it's been since I've had a real tree for Christmas (the aforementioned 1990). I totally enjoyed decorating Anita in her holiday finery all by mine-self while singing Christmas hymns. I carefully unwrapped and sorted through the huge box of Christmas decorations from all those Christmases-past... most of them with a special memory attached. I was even brave enough to open an old beat up box that has lived in the bottom of the
big box
of ornaments that belonged to Tony and Amanda. I put a few of them on the tree... all without a single tear... what a blessing!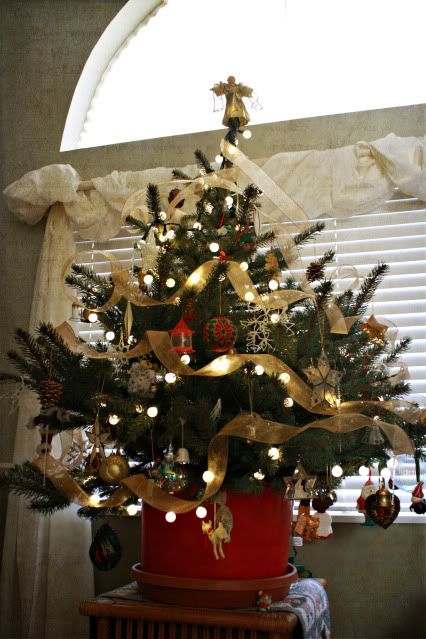 This precious little basket dates clear back to my grandmother, El (short for Elsie), she would put nuts or candy in these little baskets.
Although I have very few ornaments from my mom, Elsie, this is the one that I think of as HERS. She made this for me in the early 70s. It used to have a ribbon to hang it by, but the mice got into the ornament box some 25 years ago and ate it! (How rude!) I also have some precious little porcelain bells that used to hang on Mom's tree. I love to hear their tinkling song.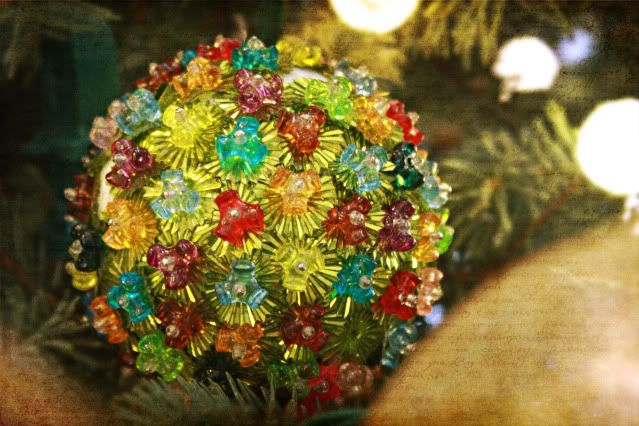 And then there is Rudolph... he's been MY ornament for as long as I can remember. You can see that he is much loved and only has two legs left. It is so nice to see him up and about again!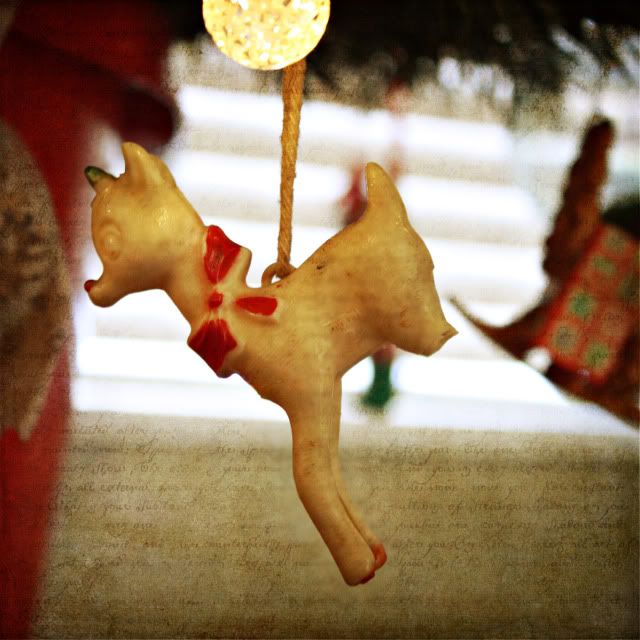 I'm looking forward to a peaceful Christmas
AND
years of joy with my new, somewhat prickly, friend Anita!