Last night was our neighborhood Christmas Party. Instead of the normal ham and funeral potatoes fare the organizers opted to do "breakfast for dinner". I happened to be one of the people who LOVE breakfast for dinner. (Probably because at breakfast time I only want oatmeal!)
The ward provided pan-cake-ree-uses, french toast sticks and the beverages. The we all brought a breakfast casserole: most of those were different forms of quiche but, BUT Carol Gadd brought the most
heavenly-French-toast-casserole-stuffed-with-blueberries-and-cream-cheese AND fresh blueberry syrup!
I could have eaten half of that ALL BY MYSELF... but I was considerate and only took a small corner.
BUT I have been craving it ever since... guess what we will be having for Sunday dinner?
** as promised... the photo 12/18/11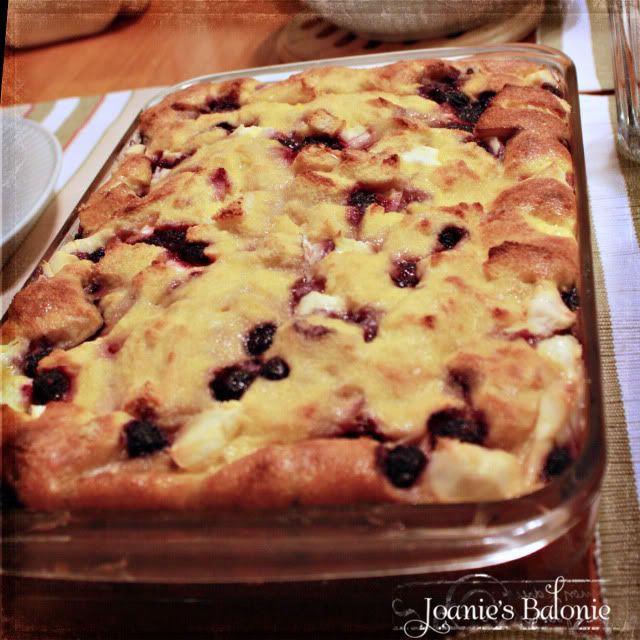 I tracked Carol down for the recipe- which she told me right then and there! When I called back this morning after my trip to Wal-Mart to get the ingredients for said yummy stuffed French toast we got to talking about WHY I love French toast so much. I thought it would be fun to share those reminiscences here.
I was the baby of the family by 8 years so that meant lots of years with just Mom and I at home. I had the best, most dedicated mother! She was all about her children, even though she worked full-time and single was raising us alone. I didn't care for breakfast cereal, always an easy option for working moms, so my mom would get up early enough to make me french toast EVERY MORNING! Then she would put it on the Copper Kraft warming tray*, covered, and when I got up for school there would be my yummy, hot breakfast!
It is interesting how we only come to appreciate the depth of our parent's dedication to us only as we get older. I though everybody's mom was just like my mom! What a lucky girl I am!!
*(My mom loved cooper cookware. We had Revere Ware copper bottom pans that hung on the wall and always had to be cleaned with Twinkle copper cleaner to make them sparkle after each use. In the 1960s there was a company doing business as Copper K(c)raft that sold wonderful copper cooking items. Mom got this warming tray especially for this purpose. I realize now that this was an extravagant purchase to accommodate her little Joanie! This tray was made of corrugated copper and plugged into the wall similar to a grill... but only for warming-duh! A Google search didn't bring up anything like this, but I did find another company who sells copper cookware for anywhere from $298 to 1675! Yikes!! And those are the sale prices!)
I will share the recipe here with you. Thank you Carol for this wonderful trip down memory lane. I'll come back tomorrow and add the photo.
Baked Berry/Cream Cheese Stuffed French Toast w/berry syrup
Casserole
12-14 slices white bread
2 8oz packages cream cheese, cut into cubes
12 eggs
1/3 cup maple syrup
2 cups milk
1 cup berries- blueberries or berry mix (fresh or frozen)
Remove crusts from bread and cut into 1" cubes. Arrange half of the bread in a buttered 9 x 13 pan. Top with cream cheese cubes and half the berries. Add remaining bread cubes and berries.
Beat together eggs, milk and syrup. Pour over bread mixture. Cover with foil and refrigerate at least 8 hours or overnight.
Bake at 350° covered for 30 minutes then uncovered for another 30-40 minutes until golden brown and center is set.
Berry syrup
1 c sugar
2T corn syrup
1 c water
1 cup berries
1 T butter
Bring water, sugar and syrup to boil. Cook for 3 minutes. Add berries and simmer 8-10 minutes. Remove from heat and stir in butter.