For as far back as I can remember Spencer has had a moose fetish... the good kind, mind you! When he was a teenager I made him his first moosey-quilt and one Christmas Auntie P made him a moosey-throw. He's been the recipient of moosey-gifts. Sadly, some of those have gotten away from him in his years of moving around... but I told him, "No matter, new life... new mooses!" That's the background...
When Gordon and I were at Gracie-Lou's looking for chenille bias for my skirt (see that post separately) we saw... well, let's let my Facebook Thanksgiving post tell it:
Thanksgiving post #3- Today I'm very grateful I took my husband with me to the quilt shop (Gracie Lou's)! He spotted a quilt I just HAD to make! That means I needed to buy more fabric... and fold it... and pet it... and lick it? (No! don't be silly! If I lick flannel it will get fuzz all over my tongue!)
I bought the *prescribed* amount of flannel on the quilt pattern but, come on, you know my rule: If it's worth making... MAKE IT BIG! (Hey, even Gordon agrees with me!
"That quilt looks a little small, doesn't it need to be larger?"
)
So, of course, that meant another trip to another quilt shoppe, dang!! This time Corn Wagon where we found some wonderful MOOSE PRINTS! It was meant to be. I whipped up some more quilt-wiches and then played that game of cards I love so well- deal 'em out, shuffle 'em around (My friend Ann taught me that one), then sew them together (mixed them up even WITH the photo!).
Here is Spencer's (and Deborah's) newest moosey-quilt on the design wall.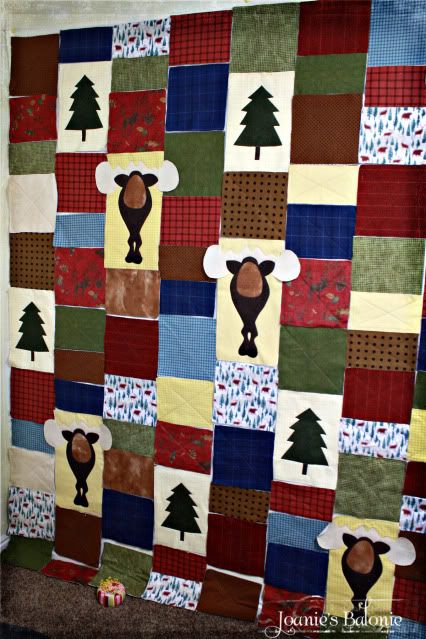 Since this is a raggy quilt, all of the seams are on the front and then clipped. Ahh... what a blessing to have hands that work again! I took it easy but didn't have any of that old numbness I used to be plagued with before surgery.
A quick wash and not-so-quick-dry (I have to empty the lint trap numerous times with these raggy quilts), wrapped up and in the mail off to Spenny's house...
Do I have a photo of it finished? Are you kidding me? Again? Not to worry... Spencer is sending me a photo of the completed quilt... I'll update the post when I get it! Shesh... I truly have a problem here!
*As promised... moosey-cuteness!