Several years ago on one of my trips to Palmdale I made a potty stop at some random gas station along I-15 and saw the cutest little stick people window stickers. I bought one to represent Gordon, Harley and I. Sadly, I don't think I have a photo of those little people... and now they are cleaned off of Beatrix!
Change is frequently stressful for me (
DON'T
ask me to change wallets!) so I wanted to replace that cute family sticker on Elio. I looked online and at the Towne Center Mall and didn't find anything I liked. Since I was in Orem today I thought I'd check at the University Mall. There's a new kiosk-
Emblem Art
with a very
NICE and TALENTED
owner/operator.
We
Travis designed this one!
What do you think? My favorite part is *my* spiky hair and Gordon's mustache! I put in my 2 cents worth but Travis worked all the magic! And, yes, we are on a first name basis after I spent over and hour with him working on this rockin' sticker!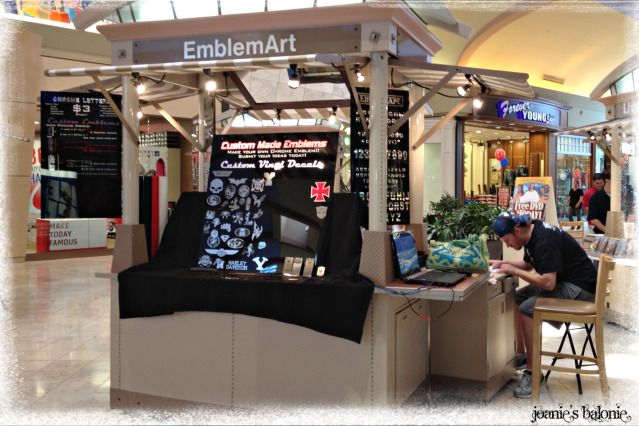 Here it is- all *trimmed* out and waiting for the mounting paper. See that large ball? It is made of vinyl scraps from all of his stickers since he opened the kiosk.
Did you know there is an added benefit to having a new car. Elio likes to live way,
WAY
OUT! Now I get more walking in!
** True Story
(sad, but true)
When Auntie P and Uncle Steve got a new car they parked it way, way out in the Von's parking lot... like this, at the outer perimeter. Ah, but in Palmdale the wind ALWAYS blows and it picked up a shopping cart and crashed it into their new car!!!
(BTW I removed two suspicious looking shopping carts before leaving Elio all alone!)