I know this seems totally odd to be posting about strawberry jam in October. I normally think of strawberries as a spring crop. But when I can find them for $7.99 a flat at my neighborhood market, Reams, I just have to buy them. (Reams is famous for their produce).
I brought them home with the intention of making freezer strawberry jam. I knew that I'd picked up a jar of pectin to have on hand just for this sort of thing. But when I pulled out the jar there weren't any directions/recipes on it. Not to be discouraged... I just Googled up the brand. Now, I'm not a sugar Nazi, but I believe in *all things in moderation*. When a recipe calls for twice as much sugar as fruit I have to draw the line (in the sugar and DON'T step over it!) In my mind the ratio of sugar to fruit is exactly the opposite. Gordon says we want to sugar the fruit, not fruitify the sugar!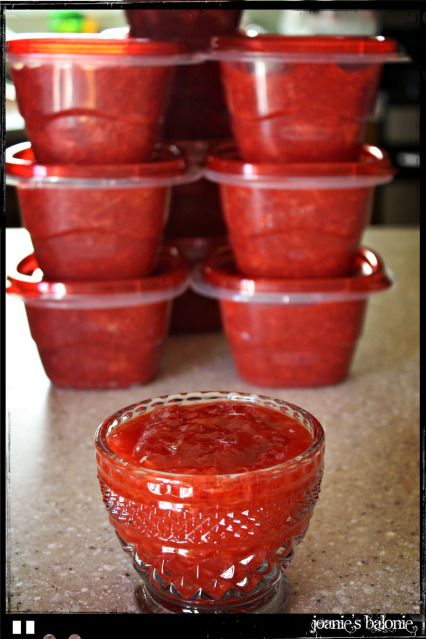 I remembered that I'd picked up some Ultra Gel up at the Bosch store in Orem earlier this summer. What I liked about it is that it will thicken HOT or COLD liquid! Now that is more like it if you ask me.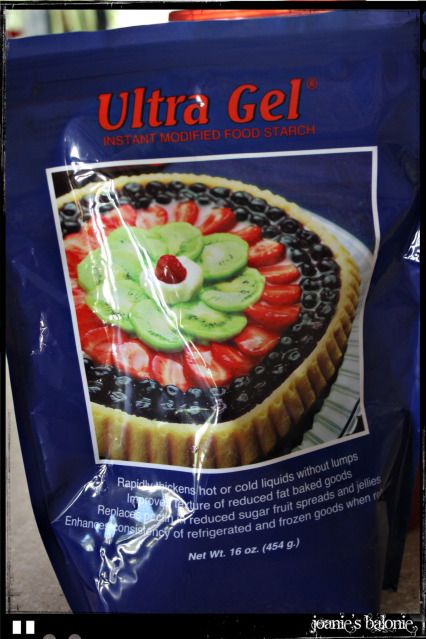 I was up to my office for more recipe ideas on the Web and came up wanting again. So I reasoned that I could probably come up with my own recipe! (Said the Little Red Hen). So I will share it with you. It really couldn't be easier or tastier. What I love about Ultra Gel is that if you DIDN'T want to use sugar at all, but Agave nectar or some other sweetener, I think that would work.
Freezer Strawberry Jam (with Ultra Gel)
8 cups mashed strawberries **
4 cups sugar
1/3 cup lemon juice
1 1/2 cups Ultra Gel
Wash and stem strawberries. Crush with a potato masher a single layer at a time. In a large bowl mix strawberries and lemon juice. In a different bowl mix sugar and Ultra Gel. Add the sugar mixture to the fruit and stir until well combined. Let sit for 15-20 minutes to thicken. Ladle into freezer containers. Label and place in freezer (or keep some out and eat it up on hot buttered toast!)
I read that since this jam has less sugar it will spoil more quickly than regular jam and suggests using it within a couple of weeks of thawing it.
** The flat I bought had 4 of those big clam-shells of strawberries. I think that one of those is equal to 3 of the little green baskets. Two big clam-shells yields 8 cups of mashed berries.
I have no affiliation with Ultra Gel and have not been paid for this information (dang). I just found a product I like.