Several months ago I saw this product (
Miniwax hardwood floor reviver
) on Pinterest. I pinned it and even bought the product but it sat under my sink until Thursday... that was the day of reckoning! Why the delay? I have a tri-level house and the wood floor AND the exit doors are on the middle level... that does create a large road block! So why now? Because we finally delivered Ashton's organ to her and I was itching to pull up the sisal rug and reclaim my dining room.
When I rolled back the rug I found that Harley's *dash path* from the front window to the dog door was badly worn. The sisal rug and grit underneath had acted just like sandpaper and totally dulled the surface... I had to do SOMETHING if I wanted to take out the rug. (And did I get a before photo? No! Not me! I always think about that when I've halfway through the project!)
I got the floor prepped (super easy, just washed it with the
Miniwax hardwood floor cleaner
; since I didn't have any wax on my floor). Then I scatted Pap and Pup out the door for a couple of hours. I did the kitchen and dining room over to the upstairs banister (can you see the line?), took a shower and left for a couple of hours myself.
This is what my floor looked like this morning.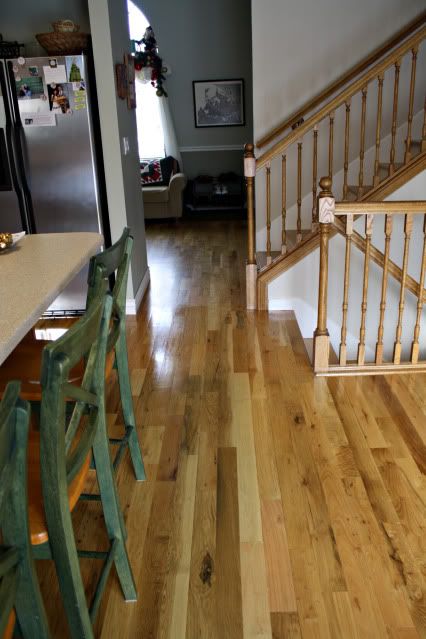 This is inside the pantry where we keep the big bucket of Harley's food. Minus the big scratches, this is what the dining room floor looked like before the reviver. (You can see the line here, too, between finished and not finished area.)
I finished the remainder of the floor this afternoon. I found that the easiest way to apply it was to put a piece of a microfiber cloth around my Swiffer duster mop instead of the dusting pad. I just pushed it into the grippers on the top of the Swiffer. Then I carefully squirted out some of the finish onto the floor (if I did it from up high it splattered onto the adjacent floor and made spots) and spread it on. It applies and smells a lot like wax. Easy enough! I gave the floor two coats since this is the first time I've done anything except clean my floor since we had it installed almost 8 years ago. It cleans up with soap and water and dries quickly, a couple of hours.
So here is the magic in a bottle! I needed one and a half bottles to do 2 coats on my 450 square feet of hardwood floor. At $20 (at Home Depot) a bottle I think this is quite a DIY deal! I'm so pleased with my beautiful shiny floors!
**
This is not a paid advertizement... Miniwax doesn't even know who I am! But I sure love their product!