Several months ago my friend, DeLoris, gave me a big piece of wool fabric (3 1/2 yards of 60" wide). She apologized that there were moth holes in it which she had conscientiously marked with safety pins. I gladly accepted this lovely gift even though there is no way I could ever wear a wool garment (it makes me itch... always has). I immediately had visions of hand-dyed wool dancing in my head! I pre-washed the wool so it was ready for dying. And then it sat, patiently waiting.
Since then thoughts of what I would do with it cooked in my little-girl-head until last week when I finally got out my dye and the pre-washed wool to make some beautiful colors.
(But first sneak-peak at the purse)
I'd hoped for darker jewel-toned colors but I think that either there is a polyester content to the wool or that the dry cleaning chemicals didn't completely wash out. You can see the original color of the wool underneath the dyed fabric. It is a light beige with a darker thread herringbone pattern. I dyed 1/2 yard WOF *dark brown* then 18" squares of (starting at the top left)- golden yellow, turquoise/golden yellow mix, emerald green, turquoise, rose red, purple, and fuchsia. What I ended up with was a lovely variety of soft heather colors...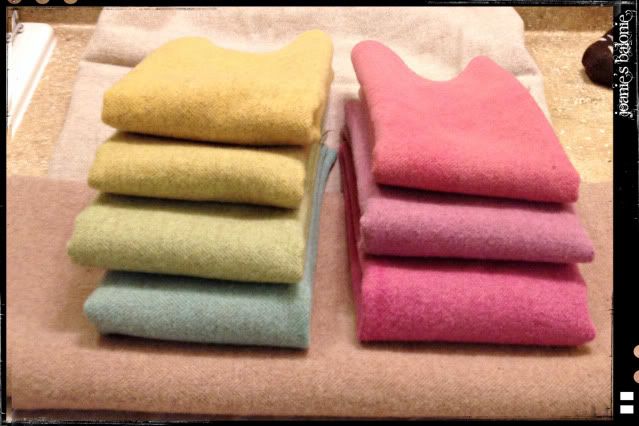 Years ago I started a wool applique block-of-the-month quilt (which is still not-so-happily-waiting) and I used some of the flowers from that as inspiration for my purse. I quickly re-discovered that my poor-arthritic thumb can only do so much hand sewing (hence the not-so-happily-waiting BOM quilt) so the hand embellishment has been done in small chunks.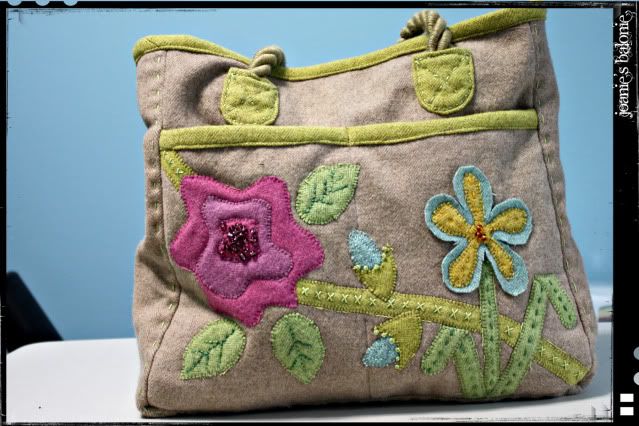 It appears that I am going to have to name 2012 *THE YEAR OF THE PURSE* It is a terrible sickness but I love it.