Yesterday my
task-of-the-day
was to clean out a smallish flowerbed that runs along the back of the garage. It had iris in it when we moved here but because of neglect it had become totally over-grown with grass. (I salvaged 16 rhizomes that I've transplanted in the new curvy bed.)
By now I've devised some pretty good techniques for weeding... but I don't know that I've ever seen so many root-bound grass roots in my life! It was so root-bound even the worms had moved out! No wonder I'd not been very successful in the past with just pulling weeds out!!
I'd only finished about one-third of the 16" by 16' flowerbed when I hit on what I knew was a ginormous rock. I dug, picked, scooped and forked at that stupid rock and I couldn't get it to budge. Finally I called Gordon to come out and help me. He took the fork and in one deft movement popped that guy right out of there. It was only about the size of a softball (Now you explain why I couldn't get it out! Root-bound? I don't know). Gordon said to give him a call anytime I wanted him to shrink a rock!
Later in the day, after I'd mowed the lawn and was working some grass clipping into that bed I found another rock. Again, dug, picked, scooped and forked... called Gordon. To make a long story short we had to remove one piece of curbing to get this bad-boy out of there. Looks like Gordon used up all his rock shrinking powers on that first rock. (This is our largest find to date...)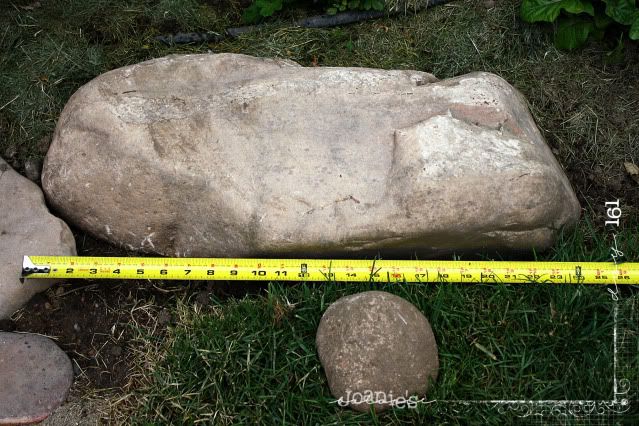 Ginormous rock and pretend ginormous rock!