Stuart called me and asked, "Where are you?"
I told him, "Evanston, WY!"
His response was, "Why??"
"BECAUSE WE CAN!"
Recently we've started taking one-day road trips just to see what there is to see. That is one of the beauties of being retired. A couple of weeks ago we went over to Price (I'd never been there). Gordon warned me that there was nothing there. Oh, contraire... there is a gas station that serves
absolutely awful gut-bomb hamburgers
! The drive was beautiful, but Gordon was right... there is nothing in Price.
Today's destination was Logan... just because. But today we found the
Gossner Cheese Factory
(famous Cache Valley Cheese) and had a nice picnic under huge trees in their parking lot of ice cream, cheese, bread and butter (In that order!). Cache Valley is absolutely gorgeous... green, pastoral.
From there we decided to travel up the road a bit to Bear Lake. What a beautiful day for a drive in the mountains. I love the blue sky with enormous cumulus clouds. The wildflowers were in bloom and the first view of the lake... breath-taking.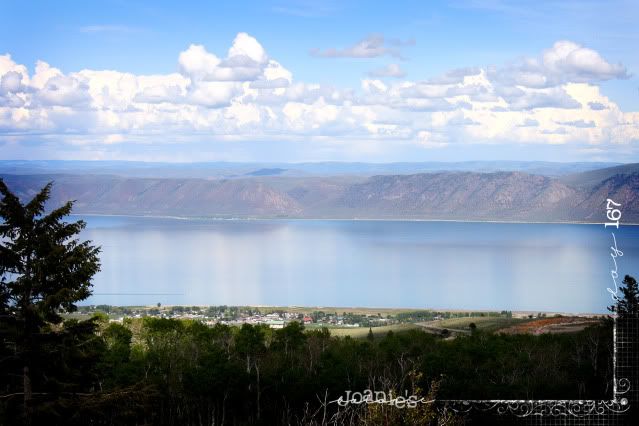 Bear Lake
Once at Bear Lake we had to make a choice... which way around the rhombus to get back home? We opted for the circuitous route via Evanston, WY and sneaking home the *back way* through Heber City.
Harley joined us for this jaunt. He used to crawl in backseat and hang out there, but today he turned the console into his little resting place... funny little dog.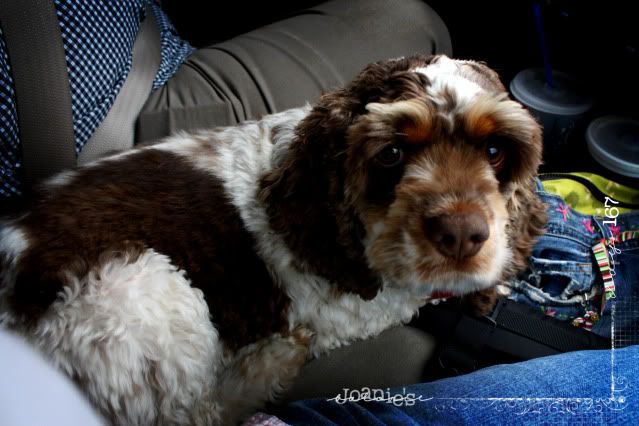 What a lovely day for Mom, Dad and Harley to make a road trip!