Today I had Grammie-duties with some of my favorite zoo animals (that is their name for them). After a healthy breakfast at Grammie's house we were off to one of our neighborhood parks. And can you believe it??? I forgot my camera? Ta-da-da-da! Grampy to the rescue! (Where was his cape? Harley has one!)
There really isn't anything more fun than photographing your kids, or in this case, grandkids at the park. I love the action and the smiles. I could have posted lots more... but I figured I won't push my luck too much!
This is definitely my favorite! There was a very nice
*big boy*
who spun them at just the right speed for a 2 year old. After Roxie got off, he gave Christian the royal treatment (you know... spin until your are sick, but Tian didn't get sick...)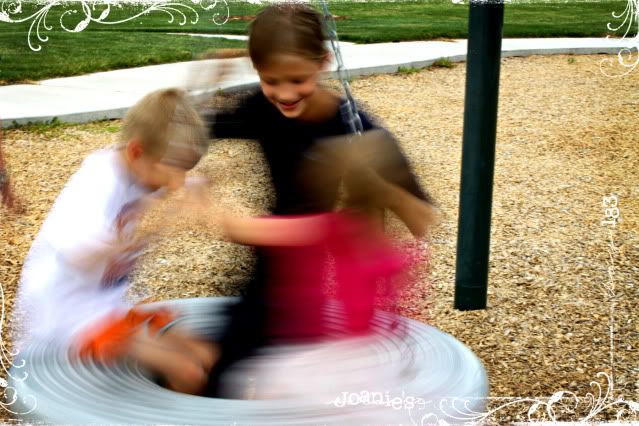 Roxie spent about half an hour in the baby swings, "Push me high, Grammie!" But this one just won out for deep saturated color and darling smile.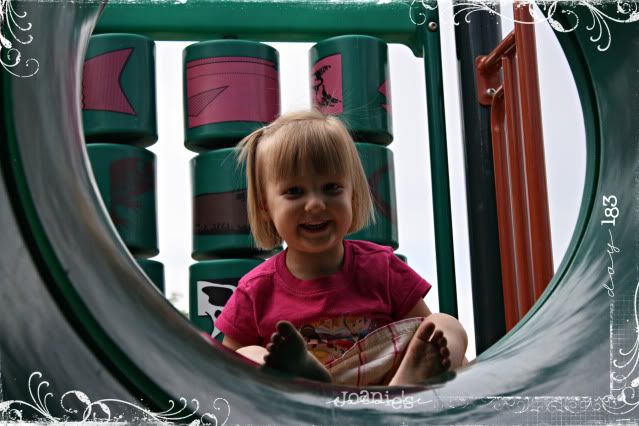 Ashton showed my that, yes, she could still fit in the baby swings... what a funny girl. (This is the girl who has
40' legs
!)
And aforementioned
*big boy*
gave Christian another push here so he could sail through the air with the greatest of ease! I love the running legs!
We topped off this morning with a trip to Mickey-Dee's for Happy Meals... even Grammie got a happy meal...
Happy day...
FONTS- Problem Secretary, CK Cursive, BRUSH- KPertiet_LedgerFrames, (A2D)_Lomo_V2, DP Moms Perfect Workflow action, BA_photomask01a