You know the old saying, "There's nothing like a good _______,
in this case
, photo? Well, today's POTD is
NOTHING
like a good photo!! Bwahahahahaha...
For some odd reason I took my
*little-marsupial-pocket-camera*
out of my purse! Big mistake! If ever I needed a camera that would take a decent picture this was the time! But all I had was my Razr Phone camera. Bah!
OK, so now for the story... Megan and the kids are still here visiting (they have lots of Utah family so they are spreading out the visiting). Grampy and the Texas family went to the zoo while I was working at the Temple. When I got finished there was a message from Grampy to meet them for dinner up in Sandy. I called Gordon's phone and
*a man
* answered the phone
AND HE CALLED ME GRAMMIE
in his deep voice! That kind of took me back! A man that calls me Grammie... a man that is 13.5 years old and nearly 6' tall. Ok, so I felt old!
But I digress... at dinner our server, Damon (a very nice young man), has this electronic gadget that looks like a large touchscreen cell phone. He puts in our order via this device! But the frosting on the cake came when it was time to pay the bill!!! I handed him my card, he swiped it through the bottom of his electronic device and the charge slip prints out of a little holster on his hip!!! I am NOT KIDDING! And me without a decent camera! (I should be ashamed!! I did take a photo with Megan's camera, so when she emails it to me I will update this grainy one!)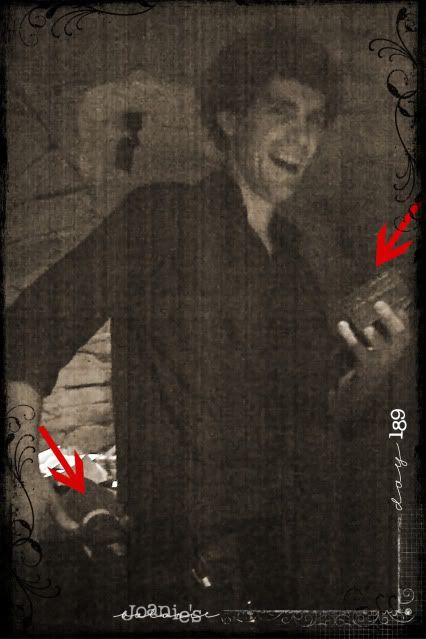 EDIT... Here is the clear shot of Damon.