Yes, Happy blog-day to me! Happy blog-day to me! Happy 2nd Blog-day dear Joanie...
Happy blog-day to me!
I can hardly believe how much has changed in the last two years of blogging.
First I have to comment on the progression of my blog header. I started out with the standard Minima Stretch Template with no bells, no whistles... just my photo. Take your choice of whether you want a
semi-sane Joanie
or a
*Don't drive angry!* Joanie
. That lived on my blog for 6 months... scary thought! (I took these photos with my *new* Lumix aka Marsupial-pocket-camera while taking care of the Folks in July 2007)

But then I'd discovered Jessica Sprague and enrolled in my first class:
Now We're Rockin'
. I felt adventurous enough to try my hand at making my own blog header! Hmm... I suppose it is a good first attempt.
Fortunately I learned fast and in just 3 months I changed it out for a cool pink and brown header! Much better...
I stayed with that header for 9 months and then felt like I needed something krafty-er (pun intended, the papers all come from KPertiet_KraftyEleganceKit). I had such fun putting this header together.

Three months later I made some minor changes adding brads and another layer so it blended into the background paper better and changed my photo...

I really like the progression that it shows in my learning curve and artistic abilities. But beyond that it shows my 2 year struggle to let my hair grow. Yes, it takes my hair 2 years to grow the same length as most people do in a year. Oh well...
Then this spring I took a photo of my Bradford Pear in bloom. The minute I saw it on the computer monitor I knew it was my new blog header. I played with blending modes and filters to get just the look I wanted for the *paper* that stretches behind the actual header. It was a wonderful week of learning.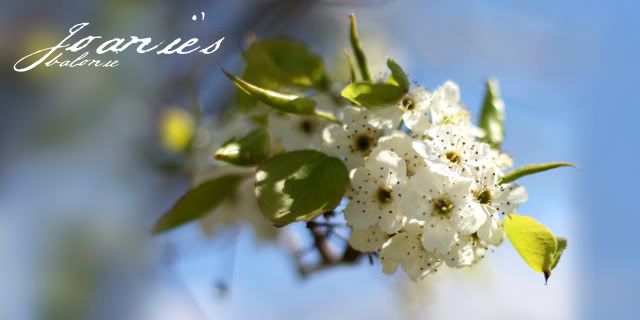 Fortunately there haven't been too many other changes along the way during the last two years. I'm grateful for that. I've used my blog as a journal of sorts. I hope you've enjoyed the journey with me.