Today is the first day that I've had enough tomatoes to do something with (other than eat as fast as they get ripe!) One of my favorite recipes is
Fresh Tomato Pasta
. Rather than a photo of the finished product, I wanted to share the beautiful sight of all these vine-ripened diced tomatoes. Can you smell them?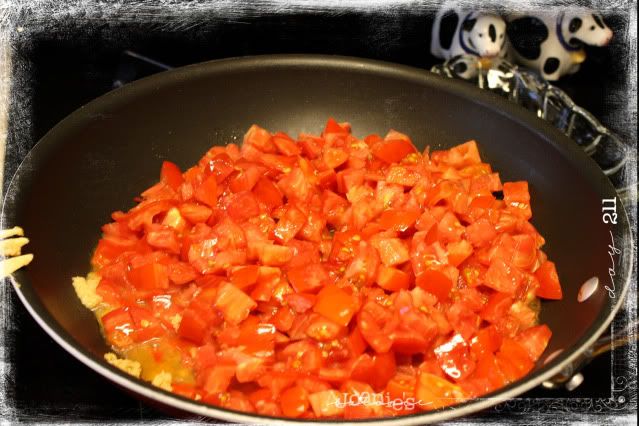 FONTS- Problem Secretary, CK Cursive, BRUSH- KPertiet_LedgerFrames, BA_photomask01a, FRAME- Hof3_SandedOverlay1_RF

Fresh Tomato Pasta
this is a fast and easy meal
1 lb penne pasta, cooked
1 TBS olive oil
10-12 medium tomatoes, diced
1 tsp minced garlic
1/2 tsp onion powder OR
1 bunch of green onions, sliced
1-2 tsp Italian seasoning
1/2-1 cup shredded Parmesan cheese
salt and pepper to taste
In a large skillet heat oil. Add garlic, tomatoes, Italian seasoning and onion. Cook just until heated through. Add salt and pepper. Pour tomato mixture over hot penne pasta. Stir in shredded Parmesan cheese and enjoy!