Normally we celebrate birthdays... but when you deal in *used dogs* that just isn't possible!
Three years ago today we adopted Harley at a *pet adoption event* sponsored by
Lost Paws
held at the American Fork Petco. He has added so much to our family. What a character!
One thing that really bothers me is ill-mannered dogs and I try very hard to teach my dogs to be well-mannered. And sometimes that takes some thinking on the human's part.
We found early on that Harley loved his toys and understood that they were *his* (I've blogged before about him killing the squeak!) He would proudly meet us at the door, when we arrived home, with one of his toys. My friend says it is his way of saying, "Look! I live here! These are my toys!"
So to avoid the ill-mannered jumping and excitement when company comes, or worse yet, dashing out the door, I gave him the job of getting one of his toys to show off when we have company. That way his energy is channeled into showing instead of jumping. He understands the concept of "Good dogs get treats!" better than any other dog I've ever had.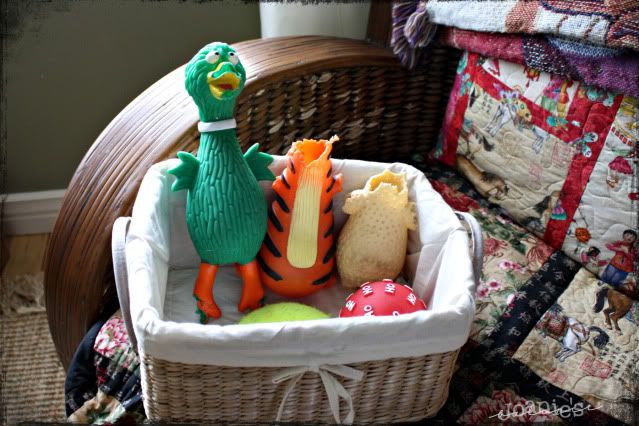 CAN YOU GUESS WHICH RUBBER ANIMAL HE'S HAD THE LONGEST?
As you can see, Harley loves his toys! He knows it's OK to chew them up, lose them in the backyard, leave them as *assassins* on the stairs and take to bed with him (Poppa's bed, of course!)
Now here is the funny part... he kept losing his toys in the nether-regions of his domain. We would get home and he would be nearly frantic with anxiety at not being able to greet us with a toy. Now what do we do for our little children? A toy box! So I got one of my baskets and gathered up all of his toys and bones and put them in Harley's toy basket; it lives at the top of the stairs. Now he knows just where to find his favorite toys when the occasion rises... what a funny pup!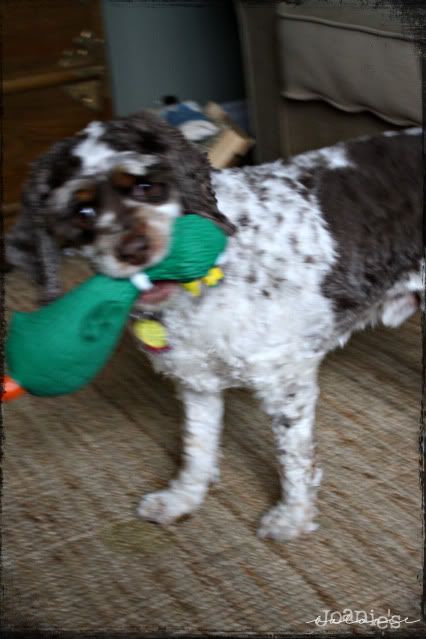 Happy Adoption Day, Harley-boy! We are glad to have you as a family member!