2007 was the first year I attended the BYU Women's Conference. I decided at the last minute to go and loved it so much that now it has become a tradition! (If you'd like to read about prior year's escapades click on the
Women's Conference
tag at the bottom of the post.)
This year only Ann was able to join me, Rebekah's boys were off on spring break and she couldn't leave them to trek back to Provo to join us =(. We always enjoy these wonderful times of being together.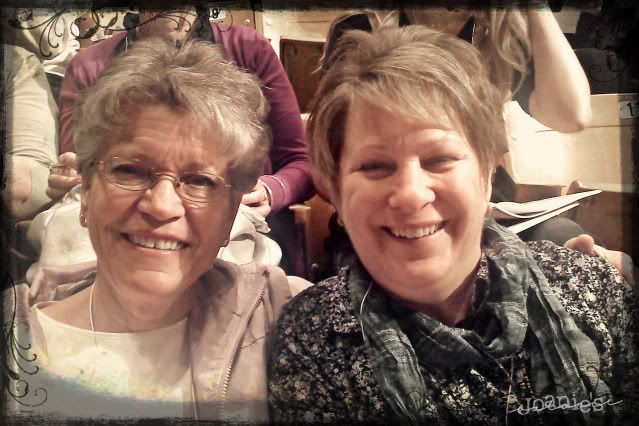 2008 Ann and Rebekah joined me for the spiritual feast. If you know me, you know that I love trail mix and think that it is just about the perfect snack for most places... not just the trail. That year I made a wonderful goodie bag for each of us including: trail mix (duh), nut bars, water, other miscellaneous snacks and a cute notebook and pen for notes. But the trail mix seems to be the one that takes center stage. Ann and I were discussing how many times we've been and she figured it out by who provided the trail mix each year!! We've had quite the fun with our *
personality trail mix
*. How can fruit and nuts have a personality? I'm not sure, but they do!
But this year disaster struck! (dun, dun, dun!) I
thought
I'd closed my trail mix bag after getting out the first handful and found that I hadn't shaken it up to mix it... hmmmm, apparently not. I grabbed hold of the bottom of the bag to give it a good shake... umm, dumped it straight into my WC backpack!! I just sat there and laughed! How could I not? Ann held my zip-lock bag while I scooped it back in. We were just grateful I hadn't dumped it on the floor of the Marriot Center.
On Thursday evening there are always service projects to participate in. There were numerous stations where literally thousands of sisters worked on various projects. This year we wanted to do the newborn humanitarian kits.
Each newborn kit contains:
* a fleece or flannel receiving blanket
* 4 diapers
* a cotton-knit layette
* 2 bars of soap
* 1 pair of booties or socks
* 1 knit cap
* 4 diaper pins
Can you imagine only having that to clothe your baby? But this is a definite step up from wrapping you baby in newspaper!
We worked in assembly line fashion to put these kits together. Ann and I worked on the end with the blankets, diapers, layette and then stuffing that portion into a large zip-lock bag. I stayed as far away as possible from the soap... it always makes me sneeze! The next sisters added the remaining items and closed up the zip-lock bag.
Our station completed 720 of the 34,315 humanitarian newborn, hygiene and school kits completed that night! What a blessing of many helping hands!
(CAN YOU SEE THAT MY POOR HAIR MELTED IN A SERIES OF HOT-FLASHES DOING OUR ASSEMBLY LINE?)
We came home exhausted, but happy. We were back up the next morning for the second day of wonderful talks and classes that help us grow and become more like our Savior. I'm already looking forward to next year!