I was catching up on Facebook a few minutes ago when a friend posted how she
should
set up mousetraps! It is that time of year, you know? Ahhh... I had that same thought in the middle of the night (that's when I get all of my great thoughts!) but had forgotten it. So without letting anything else get in my way, to make me forget,
again
, I went right out to the garage, gathered up all the un-baited traps the pest-guys set (HA!), grabbed my peanut butter and set those puppies up!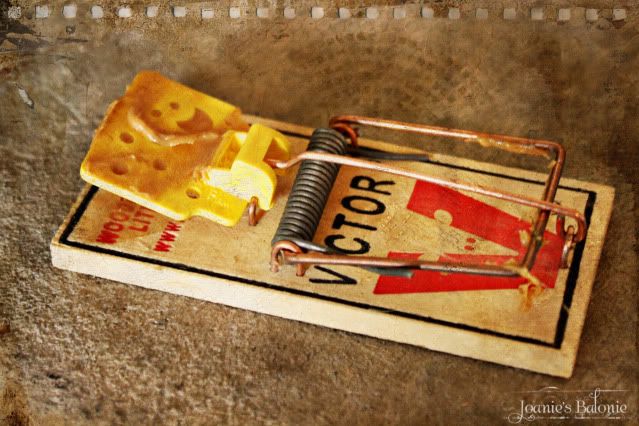 Now you may think me a heartless middle-aged woman... but if you'd seen the rodent conga-line we had here last fall you would understand! Those little bounders must have sent out tweets to all of their little rodent friends that there was a
par-TAY!
in Joanie's dungeon. They moved in by the herd! (Is that what you call a bunch of mice? Inquiring minds want to know!
So I inquired... it is a colony of mice! How appropriate!!
) Those little furry-free-loaders would lay low all day, snacking on anything their little teeth could gnaw through but as soon as I went to bed they would bring in the dancing girls and entertain Gordon; who is a night-owls, skittering from the dungeon -- furnace room -- bedroom -- under the TV -- bathroom -- under *Stuart's* couch and back again. And would you like to guess what they left me as presents all along their conga-line... yeah, that's what I thought...
In the past I've only had to trap and release the mousey friends that Simba left alive after a fun play time. I soon realize now that Simba is in the *great litter-box-in-the-sky* that he probably wasn't bringing in
all
of his little friends
BUT I AM SURE
he brought in the birds... what a naught-kitty-boy!
But I digress... I've used the sticky traps, but they really upset me. What do I do now that I've caught the little furry-fiends? Leave them in their sticky plight? No! That is heartless! But how do I get the squeaking, squirming creature off the glue? My last experience with sticky trap release ended badly with me in tears and a *burial at sea* for the mouse. So... yes, I'm a mouse executioner with the old fashion snap-trap... fast and clean. All I have to do is pick it up, with gloved hands, and drop it in the wheelie-bin, trap and all! I've found I have to embed the peanut butter in the little snap-trap hole...
Oh, this whole subject upsets me... isn't there a way to put out an
NO VACANCY
sign and have them respect that? Hmmm, I guess not!