AGAIN-WITH-THE-SPOILER-ALERT!
IF YOU ARE ONE OF MY GRANDCHILDREN-
DON'T SPOIL THE SURPRISE!
A bunch of years ago I became aware that I was out of touch with what our grandchildren would like for Christmas. So I decided to give the gift that fits everyone-
cash, check or gift-card
! I know I always liked receiving cash when I was a child (hmm... I still do)!
In past years I've done different versions of the cash, check or gift-card. Most recently I was caught up with the Target gift-card coins.

Christmas 2010
I made photo greeting cards using photos I'd taken throughout the year (you can see the gift coins stacked in the background)
Christmas 2009
I made these darling origami containers (dang, I sure do have fun!)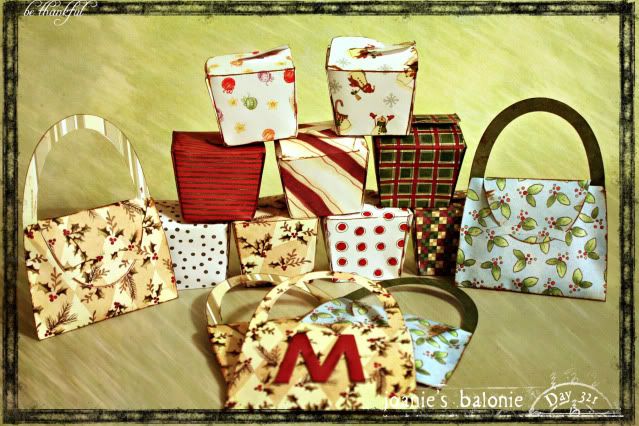 This year I thought about a more universal gift-card but I hadn't found exactly what I wanted when I ran into my neighbor... he had rolls of coins in his hand, but they didn't look quite right for quarters. When I asked him about them he told me they were
$1 US President coins
!
HA!!! That rang my bell!!
I envisioned coin purses... a Google search turned up lots of free ideas and patterns (Have I mentioned how much I love the internet? What a wonderful wealth of information and sharing!)
My hands-down-favorite is this
dumpling coin purse
.
OMSH... were they ever fun to make! I dug around in my stash of old zippers, courtesy of Edna and DI and found some good ones to use.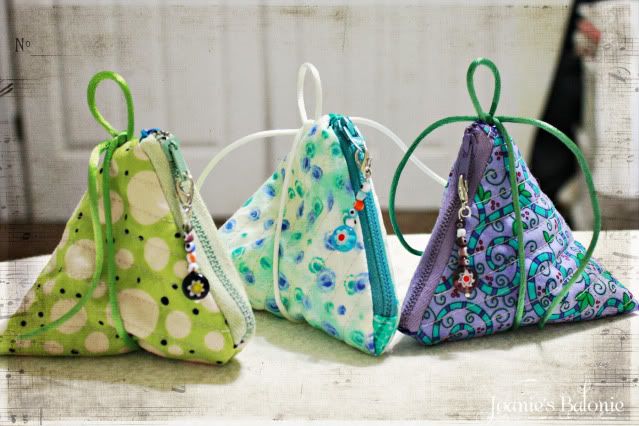 But since we have more than one girl in some families, I had to use some variety. I found a
great pattern
using felted wool. Then I carefully got out
MY
mom's, the original Grammy, embroidery thread organizer, which I totally love, and did some embellishments. The round coin purse hails back to my childhood when I had a darling little turquoise round coin purse.
But now I needed some zipper pulls. I stopped at Hobby Lobby (love that store!) and found all I needed to put these zipper pulls together. I just love doing things like this. I love using my tiny tools. Several times since making these I've thought... hmm, wonder what else I could make! (Yep, it's an addiction!)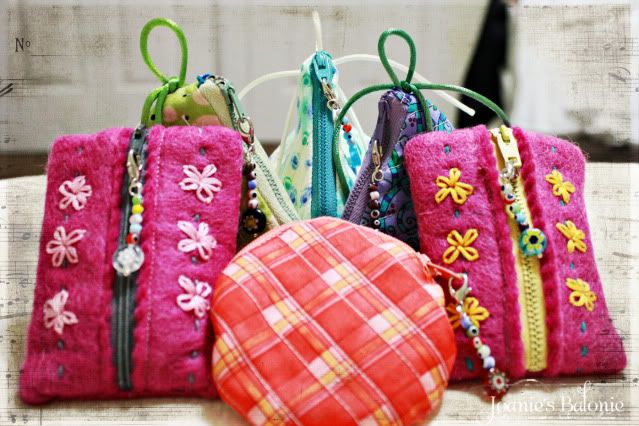 I was a little concerned about the grandsons... would they want a cutesy-grammie-made-coin-purse? But my worries were solved when I was wandering-aimlessly (one of my favorite things to do) at Wal-Mart and just happened to spot these darling rubber coin purses. (Do you remember the old simple rubber coin purses like this?) You can see that they are bulging with coins!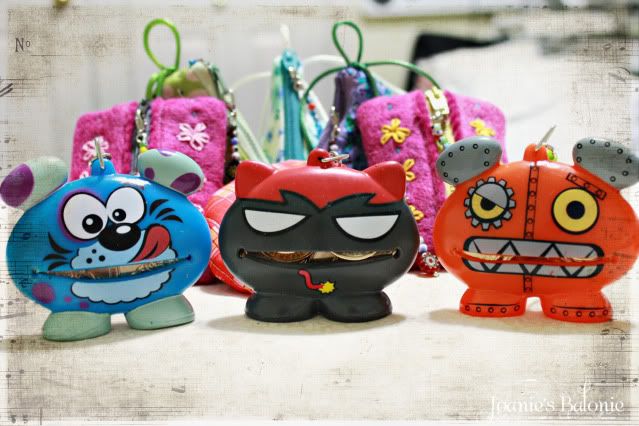 What a fun project... I'm all finished now... made the last two last night... the far-away grandchildren should have already received their Christmas packages... hmm, what shall I do
next year
?
texture info-
kk_annabelle- blending mode overlay @ 48%; duplicate layer- blending mode darken @ 48%