About six weeks ago when I was shopping for a de-thatching blade for my lawnmower I saw some paperwhite bulbs (Narcissus papyraceus). They had various quantities, some even already planted in a glitzy-silver pot. But I'm not too much of a silver-pot-kind-of-girl so I opted to buy my own pot... a beautiful pearly black square pot that would look *just so* in my kitchen!
I brought the bag of 10 bulbs and new pot home, immediately read the directions and set about potting my bulbs. I've never *forced* a bulb before, but there were clear instructions about planting the bulb with the top showing and putting it in a cold place (under 50 degrees... hmmm wonder if I could find somewhere like that in November! HA! The garage! It's a second refrigerator in the winter) for two weeks and then bring it inside to a sunny spot (aforementioned kitchen window) and watch it grow.
Boy they weren't kidding! I could literally watch it grow! It sprouted up a couple of inches each day. Then last week the blossom heads started to appear. Now, just in time for Christmas, here they are in full bloom! What a beautiful treat!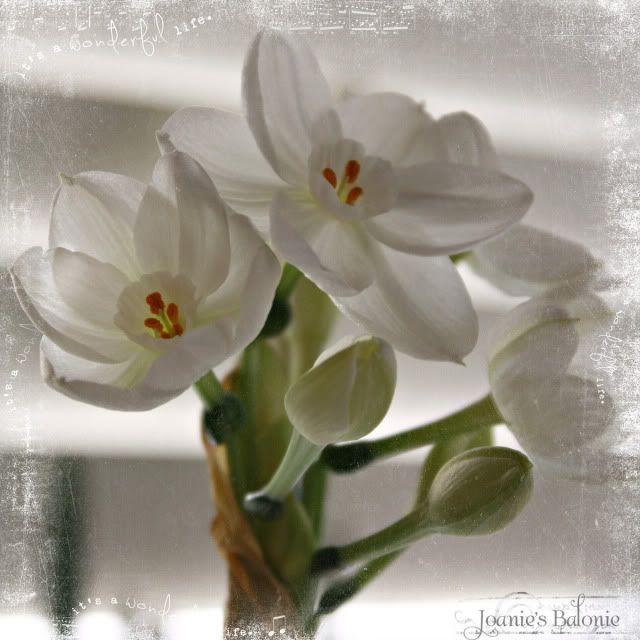 I love their delicate fragrance. It tickles my nose each time I walk into the kitchen. They remind me so much of their cousins in the Narcissus family.
texture info-
kk_wonderfulmagic_scripted- blending mode screen 100% with selective reduction.