* (I went looking for this post, and several others... omsh... apparently I never wrote them! At least I did blog about this project when it was in the
construction phase
... but
come-on
! The #1 purpose of my blog is for me. That's right ME, ME, ME! IT'S ALL ABOUT ME! OK... well, I got that out of my system!)
When Spencer and Deb were planning their wedding I asked *the questions*- what colors do you want in your quilt? what size? They wanted green and brown! Oh, dang,
that
will be torture! Green and brown just happens to be one of my current favorites.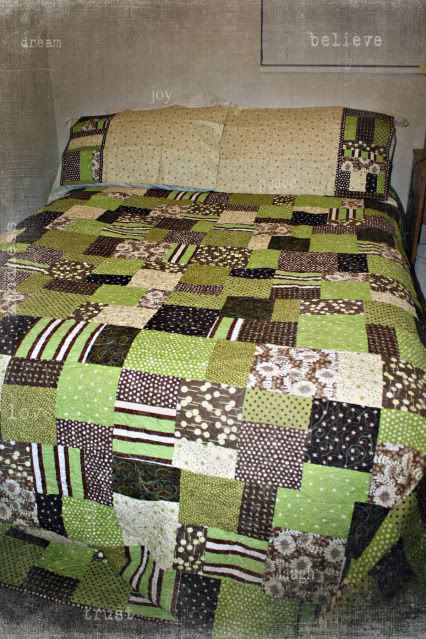 I thoroughly enjoyed myself through the whole process: choose the fabric, cut the fabric, arrange on the design wall (which now lives permanently on sewing room wall, I was tired of taking it down), sew the block, rows, top and then one of my favorite things nowadays... the quilting. I decided to use that same wonderful
paisley pattern
I learned when I made Holly's quilt (but did I get any close-ups of S&D's quilt? No, not me! I'm sensing a problem here!)
I love being able to make these beautiful quilts for my loved ones... what a blessing.