We live very close to one of the very few meat packing plants owned by The Church of Jesus Christ of Latter-Day Saints (It supplies the US, Canada and Mexico). Every so often our ward is asked to volunteer for a 2.5 hour shift to help in the meat packing. This morning Gordon & I went along with other members from our ward. It is always a fun experience.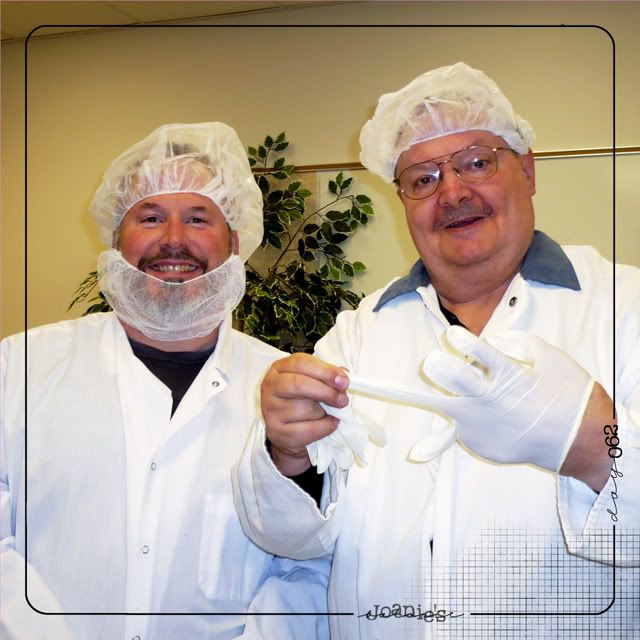 Our neighbor, Kevin and Gordon getting ready for work.
Today we were assigned to the
Franks
(aka hot dogs) packing room. We've both done this before so we kind of knew what we were doing. But today I got to learn more about the process. (I'm just like a little kid, I want so see and know everything and how it works.)
The
head-frank-gu
y took the time to show me around and explain some of the specifics to me. They use only 100% beef. It starts as hamburger- 1/3 very lean bull meat and then 2/3 65-35% fat hamburger. It goes into an enormous mixer with blades moving at 3500 RPM (don't stick your hand in there!). They add the spices and some water to the very lean meat and somehow that makes a natural enzyme in the lean meat come out that then binds the whole lot together (so there are no added thickeners), then they add the higher fat meat and blend until it is the consistency of baby food. It is then packed in the *casings* or tubing and goes into the smoker/cooker (I still smell like a wienie roast even after going for a walk in the wind to blow-the-stick-off!). The franks are then cooled, removed from the casings and brought in huge red tubs to the packing line.
There were 4 men putting the 8-franks each into the bottom half of the packaging, it goes through a long machine that removes the air and seals the top part of the packaging...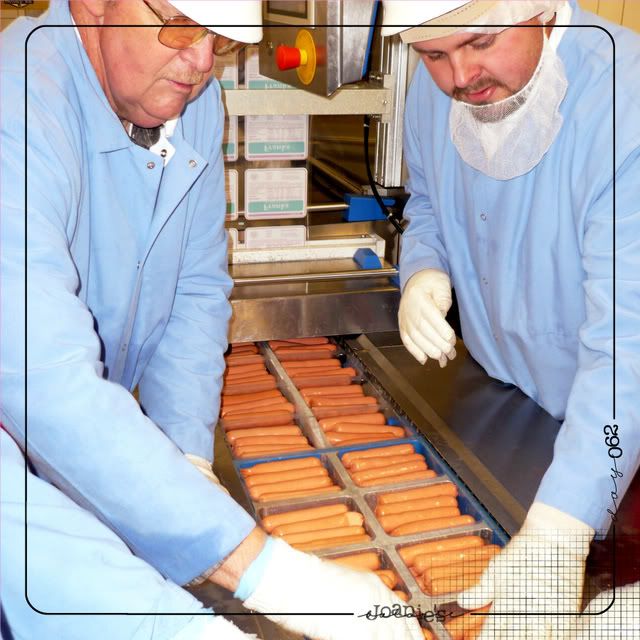 Our friend and ward member Mike Hill with other workers.
THEN it was
my turn
to take these packages of the conveyor belt and pack them into boxes that held 27 packages (each roughly 1 pound each).
When the boxes were full Gordon would send them through a binding machine that put strapping around the box, added a label and loaded the boxes onto palettes. (Is all of this
way too much information
?)
Like I said... I'm just a little kid and love to know how things work and watch the machines do their job. Bless those engineers and designers who build them.
The
head-frank-guy
said that the demand is up 40% over last year. And that fact makes me so grateful for the fact that I am-
Not in need of Church assistance because of unemployment or illness.
Strong and healthy enough to go work to help others.
Part of a wonderful Church that has a system in place to help those who need it.
Live close enough to be part of this work.
It was a fun morning... I'm glad I could go.