Fritz
said it would be like this!
Church was canceled due to snow on the pass between here and Oakhurst where the chapel is located so we really are having a very laid back Sunday.
Last night's storm continues today. The sun is playing hide-and-go-seek with the clouds. One minute it is sunny (but definitely not warm) and the next minute it is hailing! I've sneaked outside several times to catch some photos.
Years ago I went to a plant auction with Auntie P *down-below* (that is what we called it when we left Palmdale and traveled down to the LA basin). Towards the end of the auction they were practically giving away 100 count bags of King Alfred daffodil bulbs. I got one for the ridiculous price of $5! I planted all my flower beds could hold and sent the rest home with Bek the next time she came to visit. It is one of the few things that the deer and gophers will leave alone here in her rural community. It is so happy for me to see them when I come to visit in the spring. It is kind of like visiting an old friend!
This one is not the best specimen... there are some perfect ones... but I like this very weathered little fellow.
FONTS- Problem Secretary, CK Cursive, BRUSH- KPertiet_LedgerFrames
And just to give you a small idea how much rain we got last night... when the electricity was out and there weren't ANY flashlights to be found (remember 3 boys live here... who knows where they are?) I got this photo of the lake in the front yard. I do love to visit here!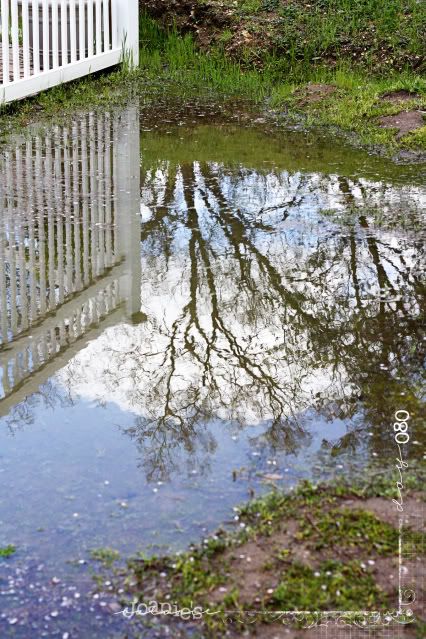 FONTS- Problem Secretary, CK Cursive, BRUSH- KPertiet_LedgerFrames