Today my Mom would be 96 years old... but she has been gone for way too many years now (32 to be exact).
As I contemplated this post for the last couple of days [since I had a minor emotional break-down in the post office parking lot because I saw a post office
*Property of United States Government*
pen... yeah, well, maybe you understand... maybe you don't] I'd considered using the photo of my mom taken when she was 27 and engaged to my Daddy... but then I thought, "No, I want to share the Momma I knew!"
I was born when mom was 39 [and Daddy was 55]. I've realized as I've gotten older what a burden I could have been to my family [sisters 10 and 8] but they never made me feel like I was anything less than the greatest thing that ever happened to our family... "They prayed for me!"
By the time I arrived Mom had raised her two younger brothers [her mother died when she was just 14] and then my sisters. I was definitely the beneficiary of all that experience. I was her #1 helper and companion. Whenever Mom got a calling in our little Branch it was always with the proviso that *little Joanie* would come along too.
I don't have many photos of Mom when I was little, but as I got older I was able to get her in front of the camera instead of always behind the camera.
This first photo was taken by me in our little front room about 1967. The beautiful curtains in the background were made by Mom and Sue (or maybe just Sue). I love how tanned Mom was... and her left arm was always more tanned than the right since she drove the rural mail route everyday [hence the break-down over a PO pen ;)]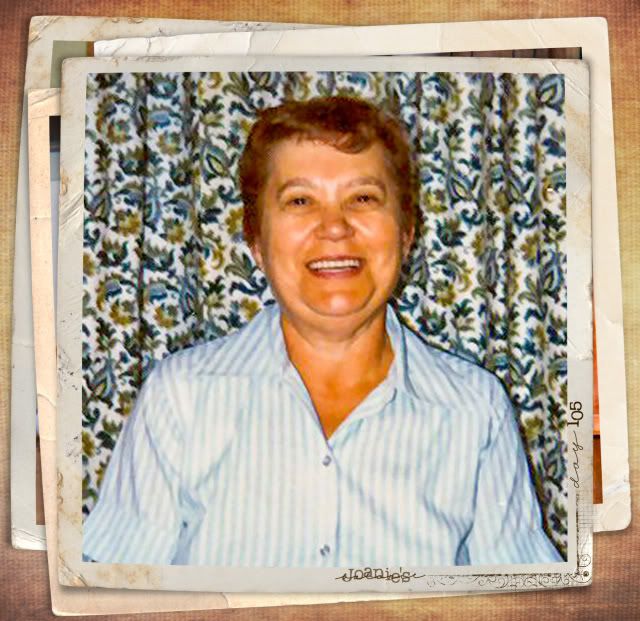 In 1972 when our little Tony was born with severe complications and birth defects [see upcoming 4/21/09 post] Mom prayed, read Alma 32 on planting the seed of faith, jumped on a plane and came across the US to Portsmouth, VA be with us. Here she is, the proud Grammy [and what a wonderful Grammy she was] the first day Tony was out of the isolete, April 28, 1972.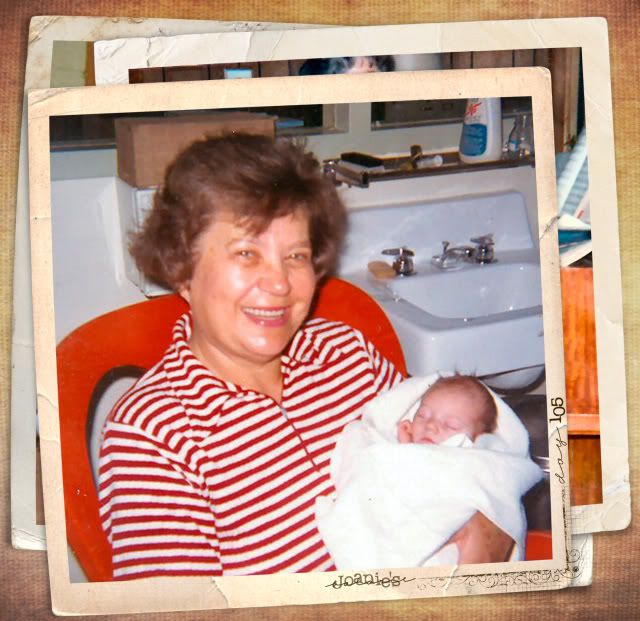 Mom got the job of rural mail carrier in Greenville in 1962 and drove that 30 mile trip every Monday through Saturday for the next 15 years. That job was such a blessing in our lives. Mom was closer to home now that it was just she and I left at home. This is a snapshot taken by one of her coworkers outside the back door of the Greenville post office in 1972.
Mom was synonymous with playing the piano. She filled our home with music and happiness. I love the hours we spent singing around the piano. I can close my eyes and see my Momma's hands on the keyboard. This is a photo taken Christmas 1974 with little Rebekah helping her Grammy make beautiful music.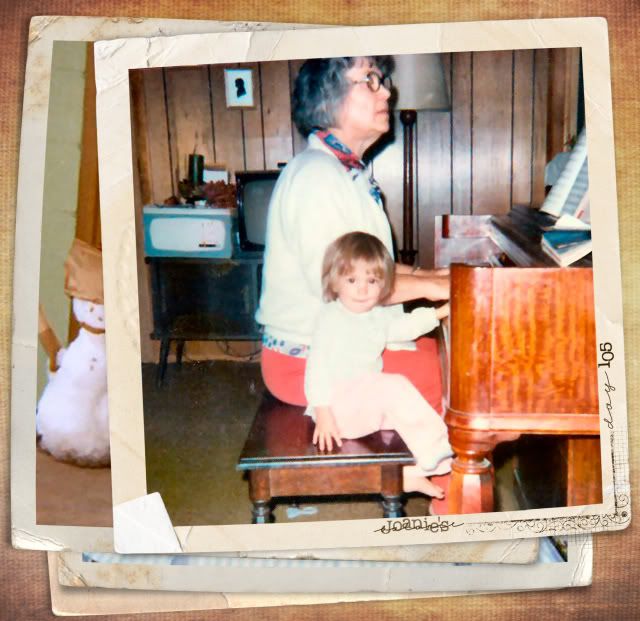 I've spent well over half my life without my Momma here. Yes, I've missed her and every year on her birthday I think how nice it would be to sit down with her and have one more piece of fresh strawberry pie with her and give her a wonderful, warm and loving birthday hug and kiss...
I love you , Momma...
FONTS- Problem Secretary, CK Cursive, BRUSH- KPertiet_LedgerFrames, KPertiet_StackedPhotoFramesNo2-2