This marks the end of six years of teaching for Miss Camille! And wouldn't you know it? Time for another move! (If you want to read more about our previous adventures click
here
or
here
)
Westmore Elementary has a brand-new building built adjacent to the old 1950s building that they've been in since, you guessed it!, the 1950s!
But, here's the problem... school ended on May 30th and the teachers needed to have all of their stuff moved to their new room THAT SAME DAY! ACK!!! I went on Tuesday to help Camille and we worked until she was exhausted (she'd taught all day and then put in another day's work packing)... we knew there was still a lot left for us to do on Thursday, the next day I could come and help her.
Miss Camille in her new room!
You know the old adage- "many hands makes light work"? It is so true. Desi and Alex came over to help us finish. But let's be honest here... Alex was the real hero here! It is a definite advantage when one set of those *many hands* are strong man-hands. Alex schlepped desks, bookcases and stacky-stackyertons like only a young man can do! He did in 3 hours what it would have taken Camille and I alone three times as long to accomplish! Once again, a big thank you to Alex!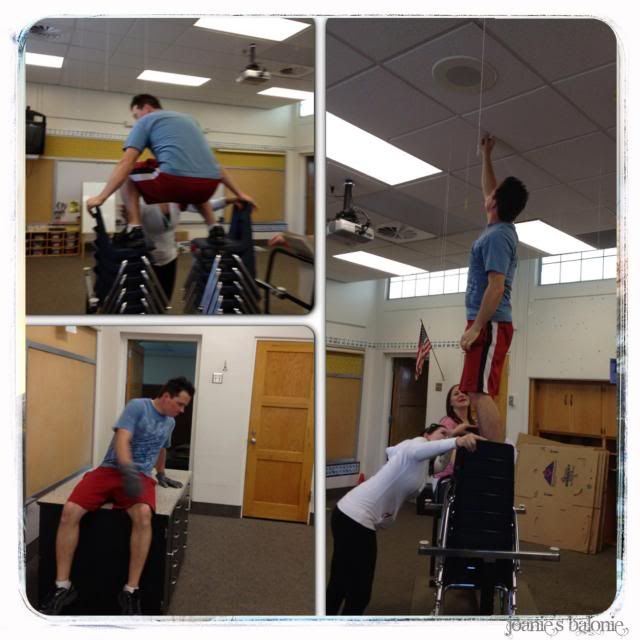 So it's *good-bye* to good ol' room 4! I can promise you that this room has never been this empty since its birth 60 years ago... (and the collection of accumulated junk from all past teachers that Miss Camille inherited? She passed it on to a very deserving intern teacher who will be teaching the newly created 4th first grade class this year)