What a fun "pig-pickin" birthday! This year my birthday coincided with the 3rd Sunday family dinner so we had a house full for the happy celebration. I wanted something that was yummy, easy and could be eaten with fresh salsa and guacamole. I came up with pulled pork... a whole crock pot full.
Pig Pickin' cake has become my new favorite (see the side bar for recipe, you'll have to scroll down a little). Yummy, moist, orange-y, cool! Mmmmm.
I'm so fortunate to have family nearby. But I've always been fortunate in the family department. For those of you who might not recognize this pose it is
"Everybody loves little Joanie! Why wouldn't they!"
I was so blessed to be born to a family who made me feel like I was the best thing that ever happened to our family. The older I get the more I appreciate that fact.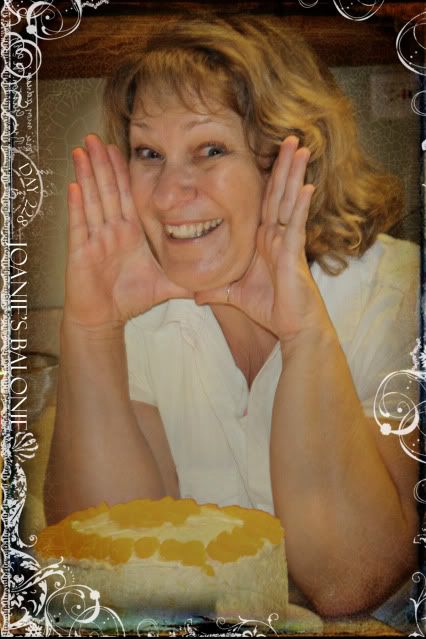 JOURNALING PATH- JSprague_4-squareTemplate BRUSHES- RhonnaFarrer_2ps_SnapShotFrameKit, FONT- Felix Titling ACTION- DPMoms Perfect Workflow
Gordon said this morning that this is my Heinz birthday... can anybody guess how old I am with that clue?