Somewhat over 40 years ago my sister, Sue, bought a high chair for her first little daughter, Cindy. I don't know if she bought it new or got it at a garage sale. All I know is that it was eventually covered with a wonderful 1960's vinyl green & blue print. All of Sue's kids used it and when I went to visit, my littles would use it.
Now fast forward almost 20 years... I was expecting Spencer and I'd gotten rid of all my baby stuff. Sue very kindly gave me this cute little highchair. Spencer ate many-a-*peanut-buttew-lou-unch* cut up in little squares with scissors in that little highchair. Then it became Camille's highchair (Stuart got a newer, bigger one).
Fast forward another 15 years (so a total of 33+ years, yeah, I know... it's the new math!!) Bek had little Caden and needed a highchair, so Grammie dutifully recovered the little highchair in white (NO blue & green print for that Mama!) and it went to live at Bek's house for several years.
When Brock no longer needed a highchair it came back to Grammie's house and now waits patiently for little visitors just the right size to use it.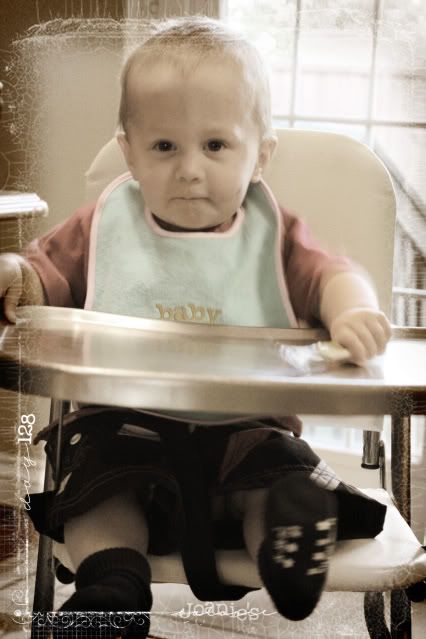 This weekend little Ethan is at Grammie and Grampy's house. When it was time for snacks and dinner I plopped him into the little highchair (you'd think by now it would have a name, wouldn't you?) This isn't his first time in the chair, but it is the first time he's been in the chair and the house wasn't full of noise and people for Sunday dinner. Almost as if Ethan had read the script he started rattling the stainless-steel tray and, my favorite, hooking his toes on the bottom of the tray and pushing.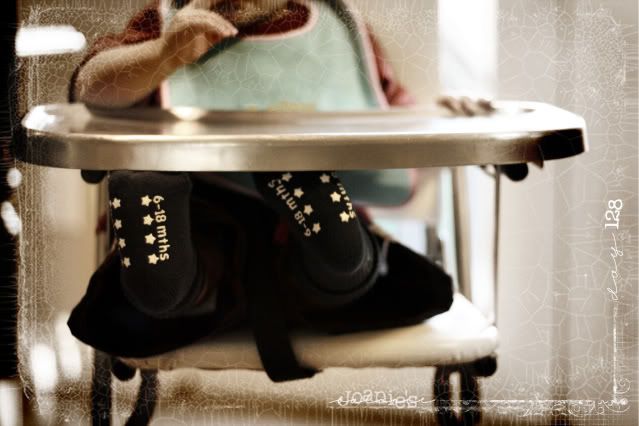 FONTS- Problem Secretary, CK Cursive, BRUSH- KPertiet_LedgerFrames, OVERLAY- film cracked 2
It is funny how fond we can become of these inanimate objects like a funny little highchair. But it has been my friend now since about 1966... that's a long time to have a friend! (So can someone please tell me why I am crying right now???)