... literally! I got something in my eye, managed to put a 2-3 cm gouge on the cornea and spent until 1 am in the emergency room where the nice doctor gave me some good drugs (numbing eyedrops) and some bad drugs (Percocet, made me throw-up) and sent me home. I was tempted to go for the pirate look, but I decided to pass. Today I am feeling better, but I can still tell that my eye is scratched and I can't like it!
So with that as an excuse, here is my real post for day 140...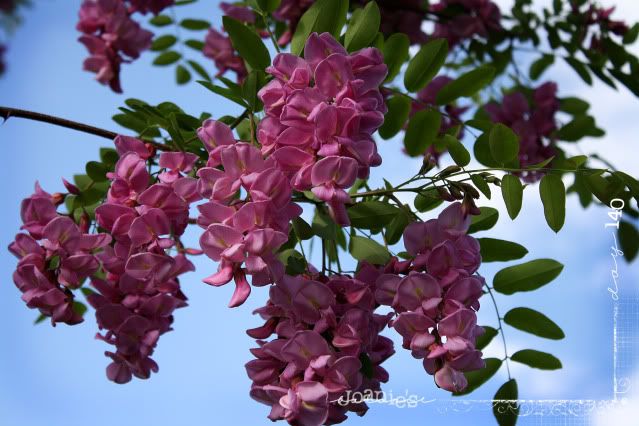 Growing up we had an enormous white locust tree in our back yard. Daddy built me a tree fort in this tree. Every spring when it would bloom the smell was just heavenly! I love that sweet, wonderful, memory-evoking smell.
When we moved here to Springville I found out that there is also a purple variety of this wonderful tree. I purchased a
Purple Robe Locust
down at the local
Sunroc
hardware store and planted it in the front yard. It is a beautiful tree and mine has flowered twice each season since I planted it (which I don't think is normal). It only has one weakness (literally) the wood tends to be quite brittle and our *canyon breezes* have broken off several limbs. I hope it survives... but in the meantime... I wait for that lovely smell each spring.