My first spring here at my Springville house I started playing in the dirt (aka working in the garden). We live in an area called Hobble Creek... keep that in mind.
I started digging up rocks in every flowerbed I went to. It wasn't long before I unearthed a *sign* (like I needed a sign) that this was MY house and I was in the right place... just where the Lord wanted me.
I dug up a heart-shaped rock. It just made me happy. For the last 4 years it has had different flower-bed homes; sometimes hiding under the Feverfew, sometimes in the ivy... but I think it has finally found its permanent home in the rocks by my new deck.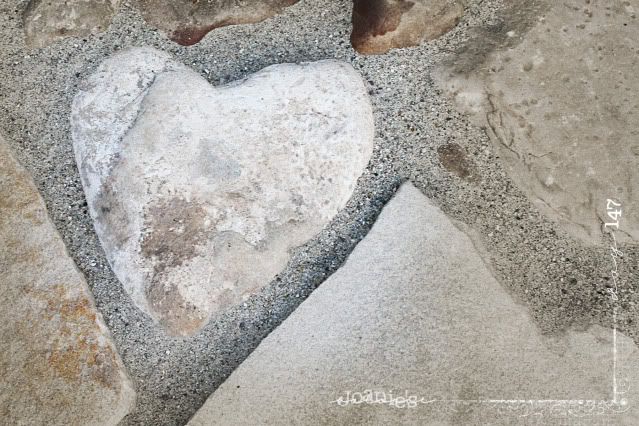 I've been *saving* all my rocks in a funny little breach between my raised vegetable garden and the shed. I've collect them in all sizes and shapes: some as big as my thigh... (I'm not kidding! Look at the ones in the top left of the photo), head size, potato size, flat, round, craggy... yep... all of them. I moved many of them to this new area that used to be flowerbed and lawn to create a nice drainage area by the stairs. I used sand to fill in around them as I did with the flagstone. I am so pleased with the results.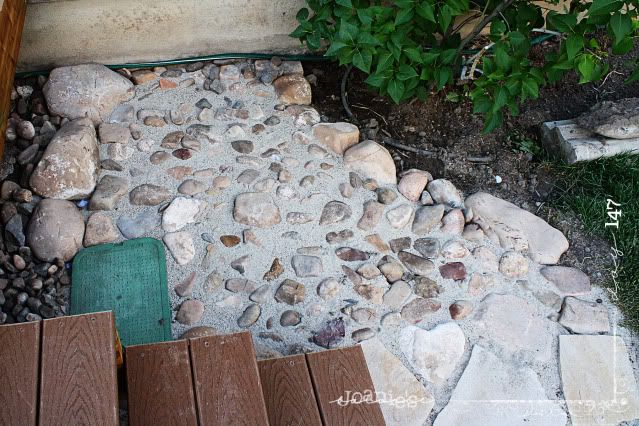 You should see me sitting here smiling my satisfied smile! I just love my new deck! Thank you again Kevin-dear!