You might remember that back in March (
Day 61
to be exact) I posted about one of our favorite restaurants, the Model A Cafe. I mentioned how beautiful the flowers are in the summer and promised another post showing them.
Tonight, after working in the yard, I just wanted to eat out! (and Gordon is always very accommodating about that idea). I just wanted a yummy hamburger. And although I'd never had a burger at Model A before I had no doubt that they were just the place to go for a yummy hamburger.
I was not disappointed with my Bacon Mushroom Cheeseburger! (I was too hungry to even
think
of taking a photo of it!!) The bacon was crispy, the meat juicy, but well cooked, the onions grilled to that wonderful caramel stage, and the melty cheese enrobed the sauteed mushrooms... Add lettuce, tomato, pickles, just a touch of mayo... YUMMY!! Just what my mouth wanted!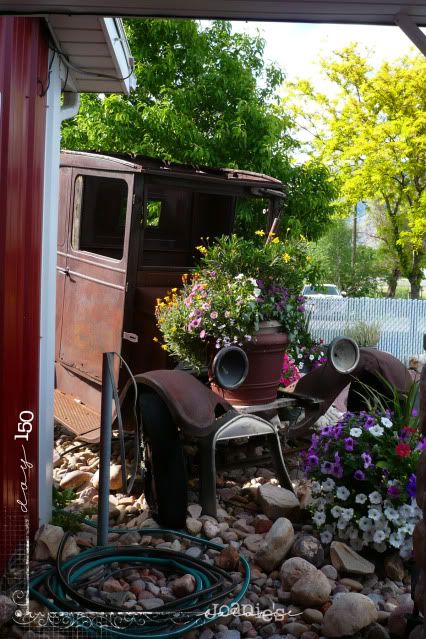 When we drove up to the cafe my eyes were treated to a riot of color and the minute we stepped out of the car I was enveloped in that wonderful petunia-Plumas-County-Fair smell! It is just heaven.
And do you want to know the most wonderful part about these plants?? A local nurseryman from just down the street stopped in one day and asked Teresa if he could do their flowers. He placed a very tasteful sign by the car. Guess where I'm going on Monday?
PS... a little sideline... I am listening to the crickets for the first time this year! I love that sound!