Way back on Tuesday (yeah, this week, two days ago... but feels like at least a week ago!) I worked out in the backyard all day. The next step for deck completion was a pad for the second stairs to descend to (come on down!)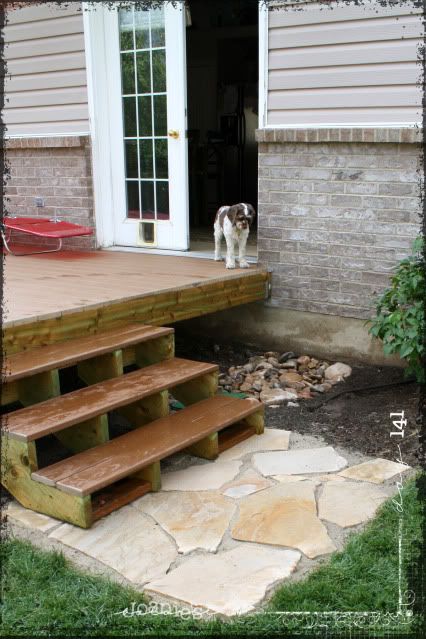 When I look at the seemingly small area- about 6' x 10' that I cleared I wonder what was so hard and what took so long... I had to remove all the sod, a shovelful at a time, move a sprinkler about 8', level and lay flagstone to create the pad and then I added my own *home-grown* river rock in the corner. (Yep, I grow them here... I clean out a flowerbed of all rocks and next season there's a whole new crop... what do you suppose the seed is? Sand??) I've still got enough rock to finish the corner between the pad and water valve cover... I save that photo for another day.
And the other thing... have you notice how Harley is always in the picture... it's his bid for fame!