There's just no substitute for a good camera (or insert the word of your choice here!) My Daddy taught me this years ago. When I was still in my mid teens he started buying me useful gifts: mostly cutting implements (
bwa-ha-ha-ha-ha
), scissors, knives. I still have all of them. And since he taught me how to sharpen them (but I've forgotten the trick for scissors =() they are just as sharp and useful now 40 years later. I think that taught me that sometimes you really are better off to spend a little more and then the item lasts a lifetime.
So where am I going with this? I'll tell you. You know that I have (and carry with me) my little marsupial-pocket-camera. My new dSLR is just too bulky and expensive to carry in my purse. I've thought that little MPC was better than nothing or a camera phone photo... but just barely!
EXHIBIT A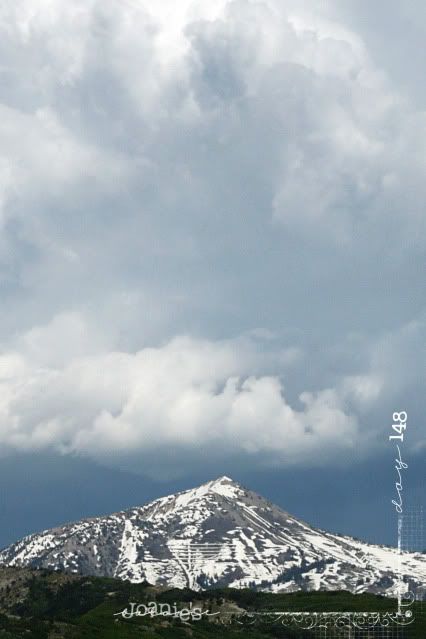 We went up to the Draper Temple to do an endowment session. When we came out there was beautiful Lone Peak covered with huge cumulus clouds and a black threatening sky. I uploaded the photo to my computer and played with it. Tweaked the lighting, added blended layers to try to brighten it, high pass filter to boost sharpness. But I am still not happy with the results. It is NOT what my eyes saw!
EXHIBIT B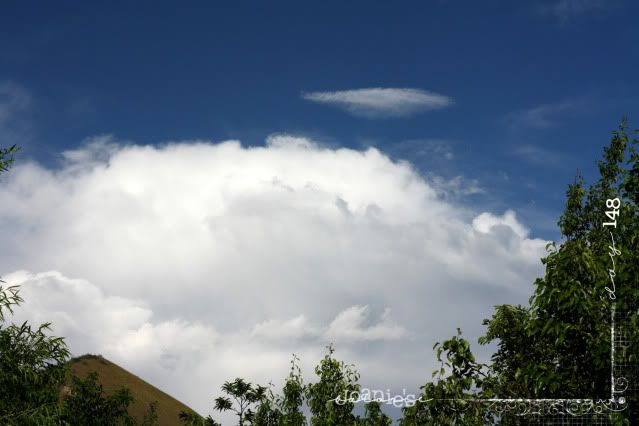 Every evening this week I have gone out on the new deck to enjoy the beautiful weather. I have my chaise lounge out there and then I drag out a pillow and beach towel to make myself more comfortable. I've done some reading, eaten dinner, listened to the sounds of nature and the neighborhood and tonight did some clouds watching. When I saw these beautiful clouds hanging over Hobble Creek Canyon I came in and got my new Cannon Rebel XS, put on my 50mm lens with a polarizing filter and snapped off some photos... THIS IS EXACTLY WHAT MY EYES CAN SEE!
The only *edit* I did on this was balance my lighting (it was a little underexposed) and add my watermark...
I rest my case.