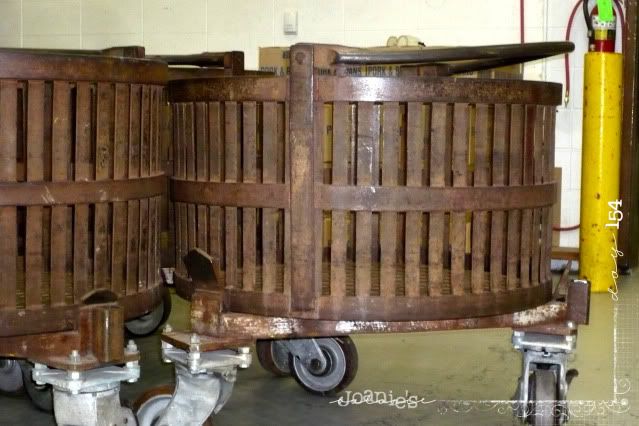 Tonight Gordon and I got to do another service assignment. This time at the wet pack cannery. Although we've worked at the Bishops Storehouse and the meat packing plant we'd never done this before so it was an adventure.
Since this is my day at the Temple Gordon picked me up there and we grabbed a bite to eat (Chicken Tortilla Soup at
Cafe Rio
, Yummy!!) and arrive just in time for our 5 pm shift. I think I should have gotten the "
Best Dressed Volunteer Award
" as I came in my dress. All of the cannery employees and service missionaries wear dark blue shirts and denim pants (imagine serving a mission where that was your required dress!)
They sent Gordon and I to the labeling work area (Truth be known I think someone must have told them not to let me have a hose for the clean-up detail!!) And since you've already seen Gordon and I in our
fashion hairnets
we'll pass on that for tonight.
I had the best job, bar none! I got to sit in an office chair in front of these rollers and after a huge machine dumped 24 cans of Pork and Beans into the box I closed the top and ran it through the machine the taped it closed. Then Gordon loaded them onto a pallet.
There wasn't a steady stream of cans so in the breaks I learned more about what the process was. After the pork and beans were packed into the cans they are loaded into these ginormous baskets; each basket holds 540 cans. Then two basket are put into even larger pressure cookers, cooled in water and wheeled into the labeling area.
I needed to go out for a break which necessitated a change of apron, hairnet and gloves. While I was in the room making the change I noticed a sign that I liked very much. It went something like this.
The work you do here is like the work you do in the Temple (and is just as important)
.
At the Temple, you do work for the dead.
Here you do work for the living.
At the Temple, you make covenants.
Here you keep covenants.
I just want to express again how grateful I am that I am on the giving end of this service. The Lord has blessed us so much.